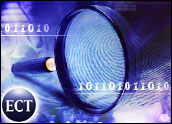 Digital age, and the stealin' is easy.
Regardless of the content type — be it a text, audio or video file — computer users can seemingly download and upload copyrighted content with near impunity. After all, it doesn't cost anything to share this material. It's there for the taking. Besides, what's the harm, and who cares anyway, right?
That thinking represents the attitude of many computer users. Sure, in those long-ago days before the Internet, people made facsimile copies of published material and reproduced them in small quantities to spread around the office, throw around the dormitory or otherwise share with associates. Tape recording your own copy of a friend's record album was frequently done in private. After all, who was to know?
Even in today's digital world, stretching or even blatantly violating digital rights and copyright regulations is viewed by lots of consumers as an extension of those similar activities in yesteryears. For the younger crowd raised on computers, MP3 players and cell phone cameras, snatching your own digital copy of whatever you want incurs few pangs of conscience or thoughts about intellectual property theft.
Where Did You Get That?
As a result, content producers and content hosting sites like YouTube are enlisting the help of digital fingerprinting technology. The goal isn't always punitive — often, it's preventative. Content providers are using digital fingerprinting to monitor who is using their material with or without permission. Digital fingerprinting also provides a reliable tool to enforce contract abuses when subscription contracts expire and are not renewed.
"Over the last three years, online content of all types has exploded. Part of this is driven by file-sharing and video and audio downloading. Digital fingerprinting is a way to protect property and get payment from expired contracts or non-compliant users. It is a way to enforce the terms and conditions of royalty agreements," Kevin Smith, senior vice president of worldwide sales for LTU Technologies, told TechNewsWorld.
How It Works
In the simplest terms, digital fingerprinting technology works much the same way as old-fashioned antivirus searches. Key identifiers in a file are pattern-matched against a master database that stores profiles of the content being monitored. But unlike virus signatures, digital fingerprinting technology works by using a snippet of the file rather than "looking" at the entire file.
LTU's approach evaluates pixels in a frame. This works for both still shots and videos.
"We use our proprietary algorithms. Some of the key features we look at are texture, color, sharpness and arrangement of elements. We look at about 12 characteristics in all. This gives us an image DNA. We then build a profile to score the image," Smith said.
Not Foolproof
Much like hunting down files filled with malware, digital fingerprinting is not a silver bullet. Content providers and Web site operators cannot trust the results as an iron-clad guarantee against the illegal trade and transmission of owned content.
"It is not always foolproof. There can be problems with its reliability because of work-arounds people can apply to make it more difficult to make a match against a database," Paul Kocher, president of Cryptography Research, told TechNewsWorld.
Technologies for getting around digital fingerprinting are fairly well-known, and some of the most determined abusers are found in academic communities, he said.
For instance, someone trying to unlawfully upload copyrighted content to a video sharing site can intentionally mask it by slightly rotating the image. Another trick is to distort the image slightly. Similarly, uploaders can change the color balance or otherwise alter the appearance.
A Second Tool
Digital fingerprinting is not the only tool available for spotting theft of intellectual property. For instance, digital watermarking is a slightly different technique, according to Smith.
"With watermarking, the image is altered by embedding a hidden identifier in the image. The scanning or reading software finds this hidden copyright label. It matches up on this image," he said.
The technology for watermarking and fingerprinting is quite reliable. How they work internally is different. Neither technology is relatively new. However, the Internet marketplace for its use is growing, according to Kocher.
"It is not a question of what technology is available. It is more an issue of how determined you are to catch violators," Kocher said.
Protecting the Cash Flow
Techniques such as digital fingerprinting and watermarking have become a business necessity today. For the license holder, it is simply part of the cost of doing business. Comparing the process to computer network protection strategies, some companies are developing blended strategies for multiple layers of content protection. For example, Widevine has a fingerprinting and watermarking solution called "Widevine Mensor."
"Widevine believes that the best solution to fight piracy is content protection applied in ways that make a business model work for both the content owners and consumers. Using content protection for protection of copyrights, ad-based revenues and other pay media revenue streams while offering flexibility to consumers to use the device of their choice is a much more affordable for all parties involved," Brian Baker, CEO and founder of Widevine, told TechNewsWorld.
While fingerprinting is nice in theory, often the only other forensic tool that works is watermarking, he added. Watermarking provides a method to track and identify pirates of copyrighted content.
"While watermarking does not identify the content [like fingerprinting], it does provide a nice theft deterrent for potential pirates if they know the content they stole can be tracked back to them," Baker said.
Piracy Police
Years ago, major Hollywood studios used Widevine Mensor to identify stolen copies of content on the Internet. Data acquired using the technology was used to shut down Grokster, according to Baker.
YouTube is currently using digital fingerprinting to keep copyrighted material off its site. Its parent company, Google, has used similar technology to fight another illegal online activity: the trade of child pornography.
One of his company's biggest uses for digital fingerprinting is child exploitation and porn images, said LTU Technologies' Smith. He frequently works with law enforcement agencies.
"One of the most popular content is pornography. Typically, we see a lot of homegrown porn. This is more easily recognized by low resolution and poor lighting done by amateurs," he explained.
A Benefit
Companies and Web site owners are becoming increasingly interested in site monitoring. Though the Digital Millennium Copyright Act sometimes protects site owners from liability related to content third parties post, it cannot be counted on as a catch-all defense. A lot of file-sharing sites and stock photo image suppliers have legitimate concerns about protecting against copyright infringements, noted Smith.
"A lot of companies are evaluating their technologies today. We are seeing an evolution primed by Viacom's punitive stance with YouTube," he said. Last year, the media conglomerate launched a $1 billion lawsuit against Google and YouTube, claiming the video sharing site allowed users to upload and distribute thousands of video clips of content owned by Viacom.
Various content owners are looking at more ways to identify their content and find where it's being used. However, keeping pirates in check and building cases for litigation aren't their only motivations. Some companies now see digital fingerprinting and digital watermarking as a new way to find and generate additional markets. The technology creates new sales channels.
"If content sites can make money from sales or use of digital and audio files, they tend to look the other way," concluded Smith.