First Ubuntu Smartphone to Arrive in Europe Next Week
The first smartphone to be powered by the open source Ubuntu operating system will arrive at retail in Europe beginning on Monday, Feb. 9.
The Aquaris E4.5 will be offered to early adopters via a series of "flash sales" across the continent. The unlocked phone will retail for 169.90 euros, or roughly US$195, without the need for a contract.
This unique launch strategy was conceived as a way for the developers to gauge demand and respond to early feedback before offering the phone to a wider audience.
The phone's Linux-based operating system was developed by UK-based Canonical, while the handsets were developed and produced by BQ, a technology firm based in Spain that already has produced an Android variant of the hardware.
This is the second attempt to bring the handset to market. Previously, an online crowdfunding campaign failed to generate enough interest and fell short of the campaign goals. Although that prior effort was unsuccessful, the developers of the operating system believe there is an untapped market for an affordable handset.
"The launch of the first Ubuntu smartphones is a significant milestone," said Jane Silber, CEO of Canonical.
"The new experience we deliver for users, as well as the opportunities for differentiation for manufacturers and operators, are a compelling and much-needed change from what is available today," Silber added.
Open Source Handset
The Aquaris E4.5 Ubuntu Edition is aimed at the midrange handset market in Europe. It features a 4.5 inch screen, dual SIM support, a front facing 5 megapixel camera, and an 8 megapixel rear facing camera.
While the Ubuntu OS can run apps written in either the HTML5 web programming language or its own native QML code, the user interface is built around Canonical's Scopes technology.
This is designed to emulate a swipe-based card system that is similar to the Google now personal assistant. Canonical noted that these are a reinvention of the mobile UI that is intended to present the most important digital life services to the handset user. These include such services as social, web, photos, music and local services -- and each is placed directly on the screen.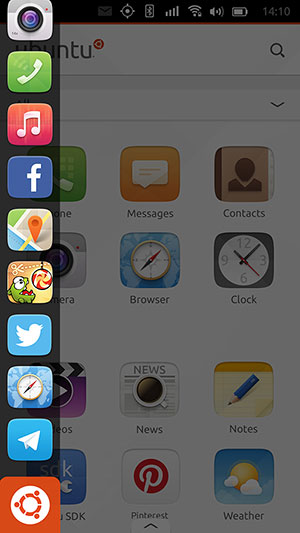 However, as a mobile UI this could actually play against Ubuntu's strengths as a desktop platform.
"To encourage a third party ecosystem they've built the experience around HTML5," noted Ian Fogg, senior director and head of the mobile and telecoms team at IHS Screen Digest.
For the Aquaris E4.5 "Canonical has partnered with a small device maker, which produced a low end smartphone with a modest processor," Fogg told LinuxInsider. "That is very different from what is typically offered to the savvy users of Linux on the desktops. Canonical, with its handset OS is moving in a very different direction."
Mid-Level Play
The Aquaris E4.5's greatest strength is its price. Though that alone may not be enough to generate the early buzz to make the handset a smash hit.
"This is a middle-level smartphone aimed at customers who want to be part of the free OS segment," added Roger Enter, principal analyst at Recon Analytics.
"The problem is that there are not a lot of apps for it yet, which is a problem that for a long time plagued the Linux/Ubuntu world too," Entner told LinuxInsider. "Now they have a basic set but the same problem will haunt them in smartphones.
"It [won't be] a game changer unless a very large operator would put massive support behind it at the expense of Apple/iPhone and Google/Android right at the time when operators have completely pulled back from that," Entner added.
Market Saturation
Even with the relatively attractive price point, the Aquaris E4.5 could still face numerous problems, not the least of which is that the marketplace for smartphones remains highly contested, with scarce opportunities for the smaller players.
"The smartphone market is extremely competitive," said Fogg. "Everyone from BlackBerry to Microsoft is struggling to make headway in the market, and a giant like Microsoft has much larger resources than a company like Canonical.
"So it will be harder for Canonical to break into the market," Fogg stressed.
"This is another entrant in the smartphone race," added telecommunications industry analyst Jeff Kagan.
"The leaders are Apple with iPhone and Google with Android like the Samsung Galaxy," Kagan told LinuxInsider. "They have close to 90 percent market share between the two of them. Microsoft Nokia is number three -- and they only have single digit market share."

---