Flight+: Planespotting Made Easy
MacNewsWorld

Flight+, an app from Flist Holding, is available for US$2.99 at the App Store.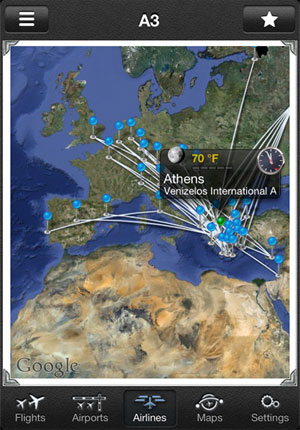 Flight+
I've been experiencing a good luck streak lately when it comes to air travel. There's been no lost luggage, no security incidents, only short delays and some pretty easy itineraries. I realize that I've jinxed it all to hell by writing this, but it was great while it lasted.
Even when air travel goes smoothly, though, there are sometimes hectic moments during which information must be attained right now if you want to avoid missing your flight and spending the night in a cigarette-smelly motel room.
All that information -- flight numbers, departure and arrival times, airport conditions, etc. -- is accessible through a smartphone. It's just not always very organized. Google works well sometimes, other times not. If you have a favorite airline you can perhaps get flight alerts, but what if you use lots of different airlines?
Flight+ is an app that corrals all kinds of publicly available flight information and presents it through an organized and easy-to-navigate interface. It's an always up-to-date universal schedule incorporating airlines, flights and airports all over the world. And it can be personalized with your own itinerary.
There are actually two versions of Flight+ -- one for iPhone and one for iPad. This isn't one of those deals that will give you one version for free if you buy the other. The iPad version is naturally able to show more info at once, but since someone hustling between flights would probably rather whip out a phone than unpack an iPad (then maybe hunt around for WiFi), I looked at the iPhone version.
Flights and Airports
Flight+ starts by asking for permission to use geolocation data and send you push updates. These are both relevant to the actual function of the app (that's not always the case with all software found in the App Store), so I recommend allowing them.
The main interface breaks down into five top-level categories: Flights, Airports, Airlines, Maps and Settings. Shuffling between screens is relatively easy, and at no point do I feel lost in a sub-sub-sub menu. Just hit the button in the upper left corner and it'll probably take you up another level.
The interface uses a sort of playing-cards analogy that "stacks" screens on top of each other. This makes me want to swipe left to right when I want to take a step back and see the card beneath the one I'm looking at. Sometimes that works, but it's inconsistent. Other times the only way back is that upper-left-hand button.
The Flights category contains a personal flight scheduler as well as a way to track any flight, anywhere in the world, in real time. To search out a flight, either to add it to your personal schedule and get updates or to just track its progress, you can enter information like its departure date, departing airport, arrival airport, airline and flight number.
When entering an airport, you're given the option of selecting from airports nearest to your current location, which is handy. Otherwise you'll need to search it out by name, which works several ways. You can offer up the name of the city or the name of the airport specifically (John Wayne International, for example). An abbreviation sometimes works -- LAX, etc. But more general keywords don't always work. Often John Wayne is colloquially referred to as "Orange County," but those words won't give you the desired result. I also didn't like that I had to include the apostrophe in the search term to find O'Hare International.
Search works the same way in the Airports top-level category, but instead of looking at individual flights, you get access to a full list of that airport's departure and arrival lineup -- origins/destinations, takeoff and landing schedules, delay and cancelation announcements and even gate information. This category also gives the airport an average delay rating and presents local weather conditions, info and facts about the airport and a map of all the various flights going to and from the facility.
Airlines, Maps and Settings
Airlines presents much the same types of information -- flight schedules, company info and maps. It also links directly to that airline's Twitter page, so if you're treated in a way that's worth ranting and/or raving about, you can scream it on the mountaintop posthaste.
The Maps category can be especially useful when on the ground. It provides terminal maps for thousands of airports, possibly helping you make a connection that much faster. But finding the airport you want mapped out seems trickier than it needs to be. You must select from among a set of dropped pins presented on a map of the world. That's so hard if you have a small handful of favorite airports already selected. If not, you'll need to hit the "Major Airports" button, which blankets the world with thousands of dropped pins. From there you'll need to zoom in bit by bit until you can point out your airport specifically. Why not also provide an option to select from airports near my current location?
In Settings, users can adjust distance and temperature units, select different types of maps to look at, decide whether to sync flights with iOS' Calendar app, and even go into "Minimal Data Traffic Mode." This last one causes Flight+ to skip out on collecting weather data, images, maps and other non-essentials, and it's great for international voyagers who need to pinch kilobytes when abroad. However, if you're going to use any data at all outside of your home turf, it's still going to be shockingly expensive unless you arrange a temporary international data plan with your carrier or spring for a prepaid local SIM.
Bottom Line
Flight+ probably won't be able to show you any information you couldn't find some other way, like with a very specific and well-crafted Google search. But it wins for the way it presents the information. It's laid out, organized, snappy and easy to navigate with one hand.
That's good to have when you're jogging through a terminal, roller bag in tow, on a semi-frantic search for your connection gate.