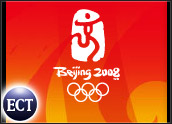 If the Chinese government isn't careful, its forthcoming Beijing Olympics could rival the 1936 and 1968 Summer Games for infamy and a message that ultimately backfires on the host country.
That warning comes from human rights groups and Internet free speech advocacy organizations following news this week that Beijing would restrict Internet use for international journalists covering the games, despite what the media was previously told by the International Olympic Committee (IOC).
Chinese officials are also sticking by restrictions placed on athletes who want to report on or blog about the competition.
The groups contacted by TechNewsWorld raise the possibility of protests by outside groups and athletes that could mirror those of the 1968 Summer Olympics in Mexico City. Then, it was American sprinters Tommie Smith and John Carlos raising gloved fists in a Black Power salute during their medals ceremony.
"What is the Chinese government going to do if there is a Tommie Smith moment on the medal stand, and somebody protests Darfur or Tibet?" wondered Robert Cox, president of the Media Bloggers Association.
"What if somebody pulls off their t-shirt and underneath it says 'Save Darfur'? This Olympics is ripe for that," Cox told TechNewsWorld.
Vitriol for the IOC
The IOC's admission this week that some of its members apparently knew about plans to restrict access to Web sites deemed sensitive by the Chinese government — despite assurances to the contrary — is receiving a cold response from the likes of Amnesty International and Human Rights Watch.
"We're of the view that the IOC's ethical and moral standards were going down the drain pretty quickly months ago for a variety of reasons — at least, for their unwillingness to openly raise human rights issues with the Chinese government," said Sophie Richardson, advocacy director for Human Rights Watch.
"We didn't think the IOC could go much lower, but they surprised us yet again," she told TechNewsWorld.
"The IOC is a feckless, spineless organization that has kowtowed to the Chinese government time and time again," Cox said. "They're not holding the government accountable for commitments they made at the times the games were awarded. … Placing restrictions on athletes or journalists is a disgrace."
Anti-Censorship Advice on the Web
Some groups, like Reporters Without Borders and Human Rights Watch had already been offering online advice to journalists on ways to get around the restrictions before this week's developments. And activist groups within China have plenty of experience in getting uncensored news and opinion to the people there.
"I think what always happens with the Chinese is that we all know the firewall leaks," Leslie Harris, president of the Center for Democracy and Technology (CDT), told TechNewsWorld. "We know that people get information in and out, people use proxy servers, that kind of thing.
"In some ways, they (the Chinese goverment) are going to be revealed — both in terms of their paranoia at their inability to control their country and not being able to control their people. There are already things all over the Web about how to protect yourself in China and how to get the message out."
Blogging Athletes Could Set Up Showdown
Although athletes were forbidden from blogging during the Athens and Turin Olympics, they did it anyway, Cox noted. This time, blogging is allowed — but with a host of restrictions: no writing about the competition or competitors, including their own performance; no criticizing the host country; no pictures unless they have approval of everyone in each photo, and no video.
"My view is they're going to get more than they bargained for," Cox said of the Chinese govertnment and the IOC. "The threat is if you violate policies, they'll take your credentials away and throw you out of the Olympic Village. You won't be allowed to compete. Does the IOC really want to tell American track stars, 'We're sending you home because you wrote a blog post about Darfur?' My guess is they won't. Their spinelessness in dealing with the Chinese will also apply to the athletes.
Still, Cox had his own advice for athletes seeking to make a statement: "If they're smart, they'll do it after they've competed in all their events, while they are on their way out."
Memories of 1936 and Berlin
It didn't take long for some advocacy groups to bring up African-American sprinter Jesse Owens' gold medal in Berlin stealing the spotlight from Adolf Hitler and his twisted views on racial superiority. The host country's message backfires; the story goes in new directions.
"We remember the German Olympics of 1936," CDT's Harris said. "This is China's opportunity to show its modern face to the world, and they just stepped on their own story. If there was any action that China could take that would stand in direct contrast to the Olympic ideal, this is it."
Any story involving journalists not being able to write what they want will ensure continued coverage of the controversy, added Human Rights Watch's Richardson.
"But [the Chinese] have dozens of Western technology companies complicit in this, along with a nominally respectable body (the IOC)," she said. "And the Chinese are employing thousands of people to do nothing but censor the Internet. We're not out of the woods yet."