Gadgetry Cacophony at CES
By Paul Hartsock
Jan 8, 2011 5:00 AM PT
Attendance-wise, CES is having a fat year. Bloated crowds meander through the show floor's arteries, clumping around deposits of cool gadgets, blocking the flow for those not willing to get a little physical and squeeze themselves through.
Press conferences overflow, locking out anyone who's not in line an hour in advance. Floor walkers do the CES zombie shuffle. Shuttle buses antagonize their passengers by crawling 300 feet in 20 minutes in the traffic cluster outside the Las Vegas Convention Center, and no, the driver cannot let you out until the bus is at its assigned stop.
Is this conference claustrophobia a sign of a recovering economy? Are people getting slower? Am I just getting fatter? Perhaps it's all of the above. But without being able to conduct a formal headcount, I'd hazard a guess that CES is enjoying a bumper crop of show-goers this year.
CES officially lasts four days, and with these crowds, it could easily take someone at least that long to check it all out. Here's a mere handful of products that caught my eye so far.
A Proper PC Clicker
Google TV has gotten off to a rocky start, LG wants to appify Web television with Smart TV, and Apple TV has been managing its own walled garden of Internet-delivered programming for years.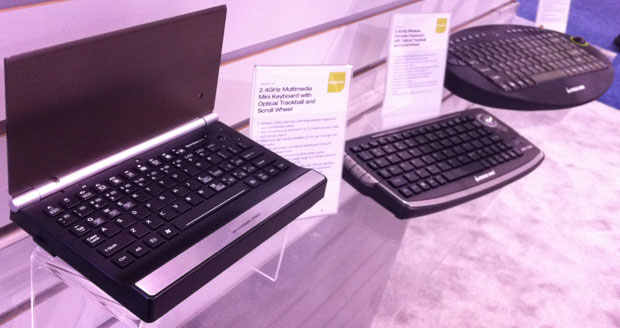 IOGear's lineup of HTPC keyboards with trackballs
Personally, I think the Internet TV world is a lot simpler when I can just take an old computer, plug it into a dumb-as-a-rock flatscreen, and get video from wherever I can find it. Hulu, iTunes, Amazon, YouTube, illicit pirate webcast, whatever -- just cue up the URL, put it on full screen, and you have the evening's entertainment without having to limit yourself to any company's underdeveloped or constrained little universe.
The only problem is that most PC input methods aren't very couch-friendly. You can use a Bluetooth keyboard and mouse combo, which is awkward. Or you can look at a small but growing category of keyboards made specifically for the living room.
Logitech is one company with a number of these, one of which is used with its Revue Google TV unit. Another is IOGear, and it's expanding its lineup to include a wider range of sizes. Each includes a built-in trackball, meaning no more massaging the couch cushion with the mouse.
Its largest, the GKM581R (US$79, currently available), features a contoured design to fit comfortably on your lap and a rechargeable battery. In February, the company plans to release a much smaller edition (smaller than a paperback book) with backlit keys for $99. In March, a medium-sized version should arrive at $49.
All of them use 2.4 GHz wireless, giving a claimed range of 33 feet.
Trick Photography
High dynamic range (HDR) is a photographic technique for capturing detail in images even when there's a high degree of contrast between the darkest parts of the frame and the lightest. Multiple images taken from the same angle but with different F-stops are digitally combined, and in the finished product, detail can be seen in the darker areas of the frame without the lighter areas getting washed out.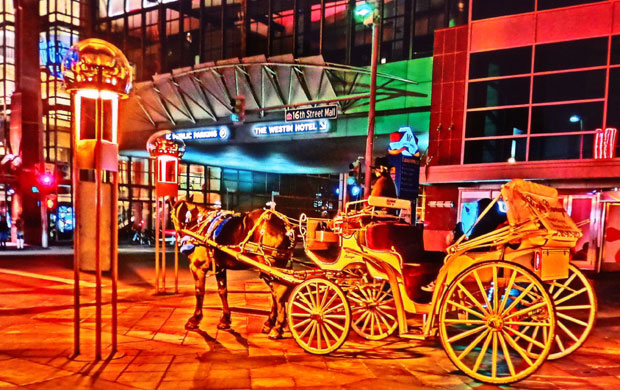 An image taken with a Casio EX-ZR series camera. HDR effect and artistic filters were created in-camera.
Using traditional methods, a shot like this requires several steps in photoshop -- not to mention careful planning of the shot to get exactly the same image several times over, save for the aperture setting. Lately, though, some cameras have been able to do HDR photography automatically, and the feature has even found its way into the iPhone 4's camera.
Casio's ZR10 and ZR100 pocket cams can do HDR tricks too, taking up to six different images, instantly combining them and whipping up an HDR image in seconds. The company also added an in-camera "art filter" for adding adjustable levels of flair to the color. It all makes for some interesting photos, if you don't mind that everything you shoot is given basically the same artistic treatment.
But cameras in the ZR series are also capable of recording full 1080p HD video -- and they're incredibly fast snappers, cranking out up to 40 stills per second.
That comes in handy when you employ the camera's CS, or continuous shooting, feature. With big, expensive DSLR cameras, the shot is taken the moment you hit the button. However, pocket cams have this irritating little delay to them as their guts adjust and putter around momentarily before snapping the actual shot. So the moment isn't always captured at the right moment.
With CS, the user can put up to 30 full-sized frames in memory and preserve them all the moment the shutter is activated. Users can also set how many frames should be saved pre- and post-shutter, as well as the interval at which they're taken.
For example, if I want to get a snapshot of the moment a watermelon hits the pavement after being dropped off the roof, I go into CS mode, then set the camera to pick up 30 frames per second and preserve 15 frames before I hit the shutter and 15 frames after, giving myself a full second of room for error. Or I could do 25 before and five after if I'm pretty sure I'm going to snap it late.
The ZR10 is available now for $249, and the ZR100, which features a tighter zoom lens, among other things, will go on sale this spring for $299.
Microsoft Tablets Unearthed
With the emergence of the Motorola Xoom, constant talk about the second coming of the iPad, an appearance by the Research In Motion Playbook, the still-recent arrival of the Samsung Galaxy Tab and the ubiquitous presence of a million other Android tablets, it's tempting to wonder how the world's largest software maker will tackle what's clearly a popular market.
Clues were provided during Microsoft CEO Steve Ballmer's CES keynote address Wednesday when he revealed plans for putting Windows 8 on an expanded variety of chip architectures, like ARM. This could help Windows more comfortably slide into compact form factors, and it might push Intel to work harder at making Atom work better on smaller devices.
But very few actual tablet products were shown on stage during the speech, and they definitely didn't get marquee placement.
Instead, Windows tablets can be found at Microsoft's booth on the CES show floor. About a half-dozen are on display, and some of these are fully touchscreen devices, not laptops with the keyboards folded back. Even though this part of the booth was drawing much attention when I visited Thursday, it seemed that Microsoft wasn't interested in making it a main draw.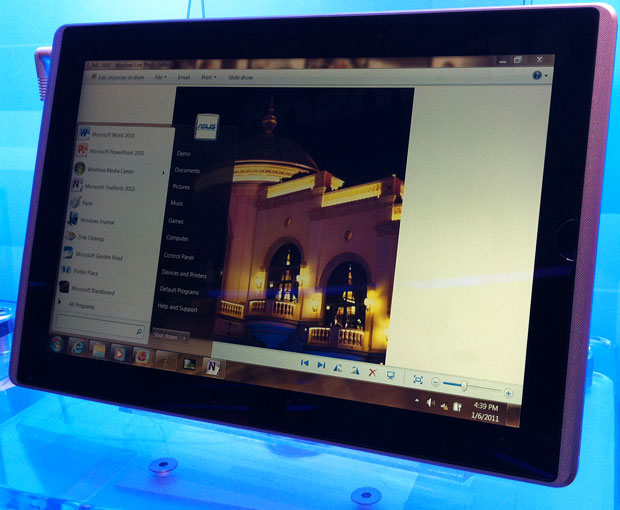 A single unit was laid out for the crowd to fondle -- an Asus EEE Slate EP 121. It was placed on an awkward little shelf that made me afraid I might send it crashing to the floor if I tried touch-typing on it, and the handwriting recognition feature was so laggy and unusable that I thought the device might well have been dropped on its head a few times before I got to it. It was running a standard version of Windows, and I'm well familiar with that OS, but it just didn't feel right using a straight desktop operating system on a 12-inch touchscreen.
So the company's still winding up for its true pitch at the tablet world. Perhaps Windows 8 will land with a flavor designed specifically for that form factor, and Microsoft's hardware partners will have a wide variety of processors to choose from. That have-it-your-way approach could make the platform very flexible, but if it's tied to the release of Windows 8, it may be a long time before we see a really great WinPad.