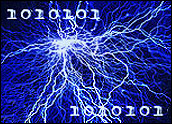 Corporate heavyweights General Electric and Google have announced a plan to work together to promote new renewable energy policy initiatives in Washington, D.C. — as well as help build up the nation's electricity grid so it can actually support key efforts like plug-in hybrid cars.
The two companies briefly announced the partnership at Google's Zeigeist conference at its Mountain View, Calif., headquarters. Details are scarce about the fledgling partnership, but Google.org's Michael Terrell posted a video clip of Google CEO Eric Schmidt and GE's Jeff Immelt's discussion on the topic. He also outlined the basics of the plan.
Building the 'Smart Grid'
Google and GE, Terrell noted, plan to focus on improving power generation, transmission and distribution. Today's energy grid is "of only average intelligence," he said. In fact, Terrell added, "the way we generate and distribute electricity today is essentially the same as when Thomas Edison built the first power plant well over 100 years ago."
The idea is to make the grid smarter, more resilient and better able to handle the impact of increasing energy demands. Electric cars, for example, may lead to greater demands for electricity, and a smarter grid would make it easier for drivers to charge their car batteries during off-peak hours when there's less demand for energy — and when it's also presumably less expensive.
Then there's the flip side: the idea that a smart grid could utilize stored energy from millions of parked cars to help handle increased demands for power that are occurring somewhere in the nation in response to, for example a heat wave, cold snap or natural disaster.
"What if our flat-screen TVs, electronic equipment, lights and appliances were programmed to automatically adjust to save money and cut energy use? What if we could push a button and switch the source of our homes' electricity from fossil fuels to renewable energy?" Terrell wrote.
Two Heads Are Better Than One
While Google and GE aren't interested in creating a coalition of companies working together on this project, they do plan to go to relevant businesses and industries as they attempt to change U.S. energy policy and regulatory barriers and deliver new solutions for better energy creation and management.
GE will tend to focus on the hard infrastructure of renewable energy production, including wind, solar and geothermal power. Google will focus on the software that can bring it all together and move it around so people can use it easily.
The two biggest areas Google and GE say they will tackle first will be an advanced approach to geothermal technology called "Enhanced Geothermal Systems" (EGS) and technologies that will enable the large-scale integration of plug-in vehicles into the grid.
Who's Running the Show?
It's not clear which GE and Google managers or executives will actually lead this wide-ranging initiative, but both companies are working on it.
"There are teams at both GE and Google who are working on clean energy initiatives, and we expect to add to our Google team in the future," Niki Fenwick, a spokesperson for Google, told TechNewsWorld.
"From the Google side, efforts will be led by appropriate internal teams — policy for policy, engineering for R&D, and so forth. Our next steps include working with GE to create a more detailed implementation plan," she added.