Google Shows Off a Chrome Tablet With 1,000 Faces
Fresh off the introduction of its Nexus One smartphone, hailed by some tech analysts as the first real iPhone killer candidate, Google has debuted mockups of a possible tablet device running its yet-to-be released open source Chrome operating system.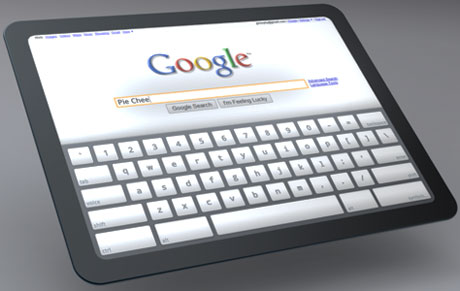 Chrome OS Tablet Concept
The mockups, posted on Google's Chromium Web site, depict a device that might have a 5- to 10-inch screen, an on-screen keyboard, and a touch interface. An animated concept video shows the ability to launch multiple instances of the browser at once, meaning users would be able to multitask, a feature conspicuously absent from Apple's recently announced iPad tablet.
Of course, that's not the only difference between the two tablet concepts. For one, Apple's is about to launch, with the first units expected to be available for purchase next month. Google's Chrome OS hasn't even been released to the public yet, much less built into a hardware device seen in the wild.
Numerous Web sites have reported that Google has been working with HTC, the same company that built the Nexus One, on a tablet and that some prototyping has been done. But an Australian news site, Channel News, reported that project was dead, citing an HTC marketing official there.
HTC did not immediately respond to LinuxInsider's request for information about a possible Google tablet. For it's part, Google was circumspect in its response. Spokesperson Eitan Bencuya provided only a widely reported statement noting that the operating system is still in development, that the company is doing a lot of research on it, and that new ideas are emerging all the time.
New Paradigm vs. Familiarity
There are rich opportunities, if not iPad-killing qualities, in Google's approach, according to Yankee Group analyst Carl Howe, who has written a report on the impact the Chrome OS is likely to have on mobile devices.
"In essence, it offers the connected device world a legacy-free platform to work with, and as such, should accelerate the evolution of those devices beyond today's Windows-centered mindset," Howe told LinuxInsider.
While the Chrome OS drops the need to support legacy hardware and software, it does not entirely reshape the user experience in the way the iPad appears poised to do, he added.
The iPad offers a new paradigm for the computing experience, but the Chrome OS will deliver user experiences that bear many similarities to traditional software, Howe observed.
"The Google tablet has the advantage of not requiring developers to completely rethink their software approach and development methodology," he said. "Apple, on the other hand, wields a 30,000-developer ecosystem whose existing products will work out of the box on the iPad, and who will be eager to tap the consumer again for a new round of software upgrades."
Different Enough?
Google's promotion of its tablet work has something of a "me-too" feel that could, in part, be motivated by a perceived need to keep Android developers in the fold and unswayed by the lure of Apple's new playground, Chris Hazelton, research director for mobile and wireless at The 451 Group, told LinuxInsider.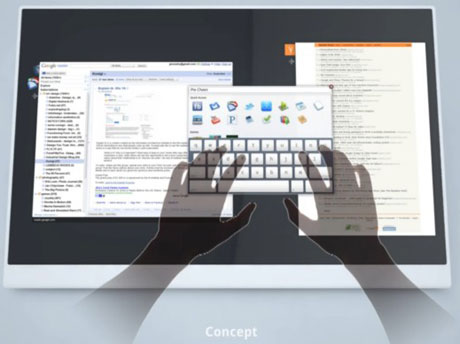 Chrome OS Tablet Concept
With Apple and Microsoft both fielding traditional operating systems, smartphones and tablets, Google needed to stake a claim in the field, as well, he said.
Google's tablet will differentiate itself on the basis of its cloud-computing roots, but that may not be enough to make it stand out in an increasingly crowded marketplace -- whenever, and if, it does arrive, said Hazelton.
"It will be different," he acknowledged, "but it may not be different enough to the end-user."