In iTunes, All App Reviews Are Not Created Equal
MacNewsWorld
I like walled gardens. They are safe and, for the most part, keep out the predators. However, when one sneaks over the wall, the results can be ugly, to say the least. With the iTunes App Store, one of the key supposed advantages for end-users is that it is a walled garden, and Apple is providing a safe, secure environment you can trust in. Apple vets the apps that are approved and provides a mechanism that allows users to review apps. The company even set up the review process so that only those who download an app can review it. In theory, this means they are app reviews you can believe in. I say "in theory," because in reality that is not 100 percent true.
Last week, the FTC (Federal Trade Commission) reached a settlement with Reverb, a public relations agency that was hired by a video game app developer. Reverb had its employees filling out bogus reviews in the iTunes app store with no indication the reviews were from someone connected to the App developer and paid by the app developer.
"Companies, including public relations firms involved in online marketing, need to abide by long-held principles of truth in advertising," said Mary Engle, Director of the FTC's Division of Advertising Practices. "Advertisers should not pass themselves off as ordinary consumers touting a product, and endorsers should make it clear when they have financial connections to sellers."
A Barrel of Bad Apples
Before you say Reverb was just one bad Apple and this is an isolated case, ummm -- no. This is not an isolated case. Back on April 30th 2010, on my website, I posted an article that exposed a company by the name of "YourAppReviewed," which was offering the service of reviewing apps on iTunes. At that time, it had apparently reviewed for pay more than 50 different apps by more than 20 different reviewers. Some of the reviewers clearly were not using the products when you looked at all the apps they were reviewing.
Some combinations were actually humorous:
Amberg914 reviewed apps for new moms, a wedding planner, and how to find a man. I guess that is possible. After all -- RSS Comm, Violin Lady and Bartsrock all reviewed the new mom and wedding planner apps. Maybe they should have reviewed a birth control methods app.
Others were just disgusting:
I came across a review by apple user RobbyRedPort. It was for an app called "Overcome the Loss of a Loved One with Prof McMurphy's Subliminal Techniques." That's right -- they appeared to have been paying to put up fake reviews for an app that profited from the pain of people who lost loved ones.
These reviews were brought to Apple's attention, and I was told Apple was reviewing the situation. Two weeks later, all the apps -- sans the loss of a loved one app -- were still in the App Store, and there were another dozen or so apps that looked to be added to the group of bogus app reviews. I published a follow up post here on this. To date, it appears all the app reviews are still up, and that Apple has done nothing to police these charlatans.
Before you say, well that is just one other company with no morals or regard for the FTC rules doing paid app reviews -- I need to say, nope, there are others. There is one person going by the name "Samwize" who was offering to write 20 five-star app reviews in iTunes for $5. He also offered to mix in some four-star reviews if you wanted. Clearly, this was to make the app reviews look as real as possible for the sole purpose of tricking the consumer (you and me).
Fortunately for this article, Samwize has so much hubris in offering his services, he put up a screen shot showing one of his iTunes user names. That allowed me to see many of the apps he appears to have been paid to review. Many of those reviews were published in July and August 2010. Quite a few of them were from the App developer LOLer Apps, which appears to have paid for the service. Three of its apps -- Baby Maker, Anti Theft Alarm and Amazing Human Calculator -- all have 20 five-star reviews you can trace back to Samwize. Ooooppps.
If It Barks Like a Dog
As for the aforementioned app developer, I do not know for certain that it paid for the app reviews -- but it does appear that way. And given that apps can have access to very personal information about you, I would highly recommend staying away from any app from any developer that might be paying anyone to write bogus app reviews. After all, if a company is willing to mislead you about its app, you really have to wonder what else it is capable of.
I am sure the overall percentage of apps soliciting fake reviews is small. But there are some signs you can look for to see if an app may have bogus reviews. When looking at the summary of the reviews in iTunes, look for the letter "C." That is when you see just as many one-star reviews as five-star reviews -- it looks like the letter "C." That is a clear sign that something is not right. Baby Maker and Anti Theft Alarm -- both qualify for that -- well, except Baby Maker has twice as many one-star reviews as five-star reviews.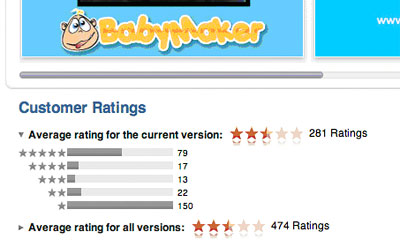 Hopefully, Apple will take action to correct this situation. The FTC already has. Now it is time for Apple to clean up its walled garden. Even if it doesn't, I have this message from the FTC I would like to send out to those looking to put up bogus app reviews: "Each violation ... may result in a civil penalty of up to $16,000." Have a nice day.

---
Rob Walch
is host of the
Today in iPhone
, iPad and iPod Touch podcast.