Lion Scopes Out Territory in Apple Ecosystem
MacNewsWorld
Apple may be hoping that Mac operating system release number eight becomes the eighth wonder of the technological world. The company released a developers preview of the OS, code-named "Lion," on Thursday.
However, Lion is primarily a "user interface evolution rather than a back-end functionality upgrade," according to Appitalism founder and CEO Simon Buckingham. Mac OS X Lion features Mission Control, a new Mac view; Launchpad, a new app home; full screen apps that use the entire Mac display; and of course, the new Mac App Store.
Mission Control provides a "bird's eye view of every app and window running on your Mac," said Apple representative Monica Sarkar. "Launchpad makes it easier than ever to find and launch any app. Multi-touch gestures give you a natural and intuitive way to interact, like pinching your fingers to zoom in and swiping left or right to turn a page."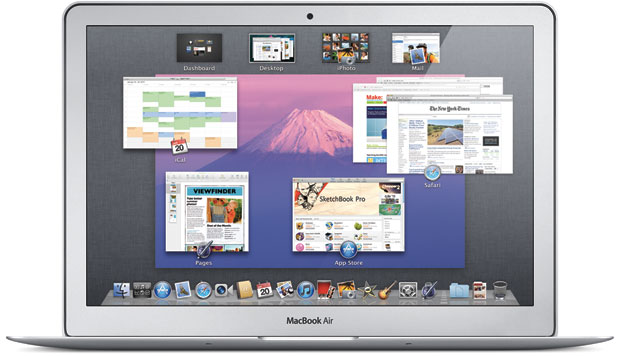 Mac OS X Lion - Mission Control
iPad Inspiration
With the wild popularity of its iHandhelds -- iPad, iPhone and iPod -- it's no wonder Apple is incorporating a slew of iOS features into OS X.
"The iPad has inspired a new generation of innovative features in Lion," said Philip Schiller, Apple's senior vice president of worldwide product marketing.
Those features come with a dizzying array of trademarked monikers. "Conversations" automatically groups related messages into a single timeline. "AirDrop" copies files wirelessly from one Mac to another.
"Versions" automatically saves successive versions of a document, with additional browse, edit and revert options. "Resume" brings apps back exactly as they were left on quit or restart. And "FileVault" provides disk encryption for local and external drives, along with the ability to wipe data instantaneously.
"I suspect all these new features hint at an accelerated announcement pace," Appitalism's Buckingham told MacNewsWorld. "Apple will probably move to twice yearly OS and iOS updates so that Android doesn't catch up to them."
App Store Roar
The new Lion features could hint at tighter controls over Mac software -- even more restrictive, perhaps, than those that apply to the iOS App Store.
Still, Lion and Apple iDevices are different animals, said Herbert Tsang, Ph.D., a bioinformatics researcher and instructor at the Simon Fraser University School of Computing Science.
"Through the App Store, the tight control that Apple has over their iDevices software is notorious," Tsang told MacNewsWorld. "There is no indication, however, that the [Mac] App Store will be the only way to obtain Mac software."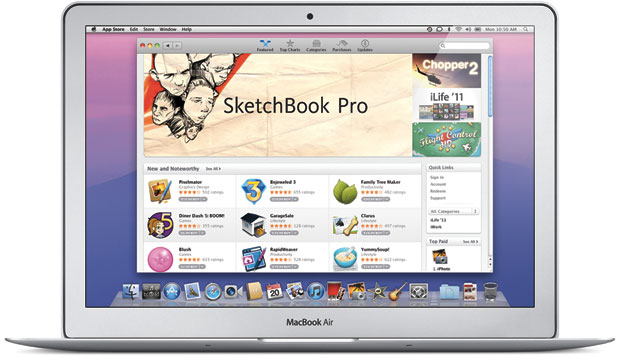 Mac OS X Lion - Mac App Store
A Lion roaming in Apple's pristine ecosystem might also suggest that even higher walls are on the way. However, the act of building those walls would likely leave clues, "such as making iOS apps seamlessly available on the Mac platform, which is what I'd be looking for if I thought Lion involved issues of increasing control," Appitalism's Buckingham told TechNewsWorld. "I don't see any of that, however."
In fact, coupling the Mac App Store too tightly and seamlessly to the Mac would be a "step backward" in the progress of technology, SFU's Tsang remarked.
Simply having an app store available on a Mac, however, "is a way for individual developers to sell their software and will be a great benefit," he said. "The new integration ... in Mac OS X Lion is a way to benefit individual software developers. It is an effort to offer alternatives, rather than exclusivities.