New Camera+ Packs Great Features but Still No Video
MacNewsWorld

Camera+, an app from Tap Tap Tap, is available for 99 US cents at the App Store.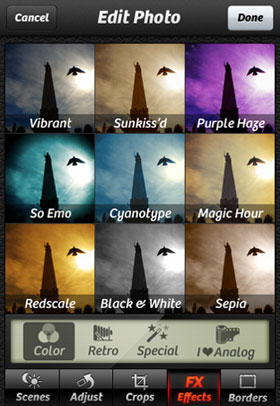 Camera+
Somehow, some way, I've avoided using the amazingly popular Camera+ photo shooting and editing app. My only excuse? I'm pretty rigorous about which apps I bother to download, play with and use. An apptrocious phone packed with gobs of apps tends to annoy me, so I have a habit of sticking with solid performers rather than clutter my mind with options.
But Tap Tap Tap, the company behind Camera+, just upgraded the app to version 3, and the waves of activity around it caught my attention: Maybe I'm missing something here by using my staid built-in Apple Camera app on my iPhone 4.
One App, More Features
Camera+ takes the basic metaphor of the camera app and packs in a bunch of handy features. For instance, Camera+ doesn't just take photos. It contains a photo editing side of the app too, called "Lightbox."
To tap into the editing features, you start with two basic ideas for your own workflow: Classic, which is when you take a series of photos then edit them later, and Shoot and Share, which is when you take one photo and go immediately to the editing screen, which also lets you quickly share it via social network accounts like Facebook or Twitter -- or email it if you like kickin' it old school.
Back to taking photos.
The app does a pretty good job of automatically figuring out exposure and focus, but where Camera+ shines is in the ability for a photographer -- as opposed to some dude pointing and tapping a button -- to tap and hold the screen to set the focus spot ... then tap the screen with a second finger to adjust the area of exposure. If you tap a dark area, the rest of the screen will lighten up -- this is quite handy for bringing more light to a shadowy area of an image (before you take it) or toning down a very bright area, like sun glare on water or overhead light on white or shiny objects, like your uncle's balding forehead.
Apple's built-in Camera app, for example, lets you adjust focus and exposure at the same time with a single tap, but as you can imagine, that means you're only directing the app to accept the key information from one spot in the frame of the photo. Camera+ lets you set the focal point and then dynamically move the exposure around to suit your needs. This is actually pretty cool, because if you simply tap in a dark shadow, your light areas might suddenly wash out and become blinding. You can re-tap or even drag your exposure area around until you find the right balance, on the fly.
In addition, you can skip all this messing around and just invoke the flashlight mode of the flash setting and illuminate the dark areas by shining some light into them. The flash setting also lets you choose between on, off, and auto.
Zoom? Really?
Camera+ also lets you zoom in up to 6x. Of course, this is a software zoom, so it's not like zooming through the mechanics of a physical lens. Still, I was pleasantly surprised with the quality. Certainly in line with what I expect out of a tiny little smartphone lens from 150 feet away.
Another handy feature is the Stabilizer mode, which automatically takes the photo after you press the shutter button once your jittery hands find an instant of calm. Click. You nabbed the photo and you can be reasonably sure that it's not all blurry.
If you want to take a group shot but you don't have a passerby to take the shot for you (or you don't trust your fellow man enough to hand over your iPhone), there's a timer option. And if you fancy yourself an action shooter, you can use the burst mode for quick photos, albeit taken with a lower resolution. In my short time of experience, these burst photos aren't all that great. But the noise the shutter makes as you tap, tap, tap away to take the shots -- nice. For all you guys out there snapping photos of your girlfriends or wannabe girlfriends, use the burst mode ... fire away and say, "Work it, baby, work it," as the shutter sound goes nuts. And add, "The camera loves you."
The first nine or so rapid-fire photos will suck, but if you time it right, the tenth one will give you an awesome smile.
As for overall quality, it's at least as good as you'll get out of the standard built-in camera app, and some iPhone photographers seem to think it's better. Either way, it's certainly more controllable, though you can safely let it do its own thing on auto and get similar results to Apple's Camera.
Camera+ Part Two: Editing and Enhancing
If the extra shooting features don't catch your attention, the built-in editing and enhancing filters ought to.
The Lightbox area of the app lets you store your photos via a metaphor of negative film strips, but once you edit a photo, it breaks out of the film strip an looks like a "developed" photo. Sort of fun. After you understand what's going on, it's visually handy.
When you go to edit a photo, you can tap into a lot of built-in editing features. You've got a bunch of crop selections, which is handy if you're sharing to specific sites or using your photos on the Web and want the same specifications each time you post. Or if you want to print the photo on paper (people still do this, right?) and put it into something like a 5x7 photo frame.
Tap "Scenes" and you've got well over a dozen presets like Clarity, Flash, Darken, Shade, Fluorescent, Sunset and Food. Pick the right scene for the scene that your shot, and boom, you might be a fast and easy fix to your otherwise marginal photo. Overall, Clarity is highly recommended.
FX Effects, for instance, is a whole separate button of adjustment effects designed to let you deviate from reality in order to stylize your photos. You can change the hue, make your photo black and white, or tap into the Magic Hour to get that soft warm glow of light you only get near sunset or sunrise. Try the special effect Faded. It's hardly ever a bad move.
If you're into sharing, Camera+ has beefed up its social networking sharing features so you can post up photos to multiple sites at one time. If you're using Twitter, Facebook, and Flickr . . . or all three, you're going to appreciate the new sharing features.
One Glaring Hole: No Video Recording
After all this goodness baked into a single app, can there be anything missing? There is, and it's a big one: There is no built-in video recording.
The built-in Apple Camera app has it -- a nice and easy toggle. But Camera+ does not. Don't know why, and it boggles the mind. Still, it's better to do one thing really well than multiple things poorly. And for messing around with still shots, Camera+ has that nailed.

---