New iOS App Gives Podcasts a New Voice
MacNewsWorld

Podcasts, an app from Apple, is available for free at the App Store.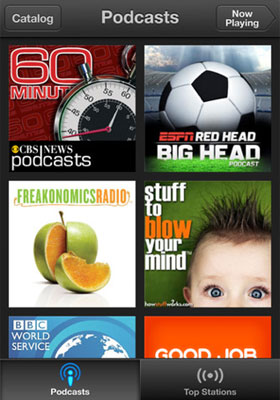 Podcasts
Just a week ago, I had written off podcasts. I hadn't really bothered with them in months. Keeping track of them wasn't exactly hard, it just wasn't front-and-center easy. As for finding them, downloading them, syncing them, and remembering to figure out their connection from iTunes on my Mac to my iPhone or iPad ... forget it. When I could just easily cue up Pandora or some game of the week, Podcasts were just shoved out of the available shelf space in my brain.
But that might change. Right now, I'm enamored with Apple's new Podcasts app. It was supposed to appear with iOS 6, but Apple released it early for iOS 5.1 users. Of course, I had to take it for a spin, and consequently, I've shoved a few other things off the shelf in my brain to make room. (I'm not sure what's now tumbled to the floor, because hey, it's gone.)
Reviving Podcasts
I'm so out of the touch with the podcast world these days that I'm not sure if they're more popular than a few years ago or less popular. In my mind, they were less popular and less relevant. Not for any great reason, just that consuming them required too much thought. For example, if I'm going on a road trip, I don't have to plan ahead to use the radio. I just turn it on. For connected music, my iPhone is usually loaded, so no big need to plan ahead there, either.
What's important about Apple's new Podcasts app isn't so much the user interface or how it works, it's just that it's insanely focused on what it does, and the unoriginal name reflects that -- Podcasts. So all you have to do is download it, start using it, and put the app icon in a place on your iPhone or iPad where you're notice it.
Then, in your moments of downtime, start browsing what's available. You might be surprised. I was. I started downloading podcasts like crazy, one here, one there. Ooh, I'll take that Freakonomics podcasts and that Adam Corolla show. The "How Stuff Works" guys have a podcast? I'm in.
As you start poking around the Podcasts interface, you'll figure out that browsing through it is fairly similar to looking through the standard iTunes Store and other Apple apps. There's a Categories section that lets you sort by Featured, Top Charts or simply Search. If a podcast title or cover catches your eye, tap it and you'll see a list of available podcasts that you can get. Tap the downward-facing arrow button and it will download.
Tap the title, though, and you'll immediately start streaming the episode. This is a cool feature, both for immediacy and for those who want to plan ahead. Since some podcasts could be hour-long interviews, downloading could take a while on a slow connection (meaning you have to wait) or it could mean you can save the podcast to listen to later when you have no connection at all.
Where Are the Descriptions?
I make snap judgements about books by their covers, even e-books, and podcasts are no exception. I found that as I was trying to evaluate a podcast -- do I want it? Is it worth subscribing to? -- that I floundered around on my iPhone looking for a description. I wanted to read something that would let me know what it was really about. You can try streaming them, of course, but some podcasters take a minute to get warmed up and get into the real content of the podcast. As near as I can tell, there are no descriptions on the iPhone version of this app when you're trying to figure out if you want a podcast or not. You're limited to trying to glean information out of the listener reviews.
On the iPad, however, there are descriptions, no doubt due to the extra screen real estate. Other than that, though, the interfaces are fairly similar, with the iPad getting the edge for better podcast browsing.
After you find some podcasts -- audio or video -- and download or subscribe to them, it's time to tap the Library button at the top right of your iPhone screen. Doing so flips a "wall" to reveal a grid of your available podcasts. This grid is what turns this Podcast app into something really useful.
Tap one of your podcast covers and you'll slide over to a new screen that shows you your list of downloaded podcasts from that person or publisher. On this screen you'll find a description of the podcast series. On the iPhone, this is too late. If you see the description, you've obviously already decided to consume the podcast anyway. There is also the ability to see a bit more about a particular episode, which is handy, especially if you've downloaded several episodes. If you're a subscriber to a podcast, this is also handy to keep you apprised of new listening options.
At the same time all of this points to a fantastic new way to consume podcasts, it's still confusing. For instance, if you download a single podcast from a producer but don't subscribe to the entire series, it's unclear how you can browse for more episodes. You can turn your subscription on and off or sort from oldest or newest first, but I couldn't find a link back to a list of available podcasts from a podcast producer. To do that, you have to back your way out and then return to the Catalog ... where you might have to drill down or search to find your podcasts series.
Minor quibbles, really, because Podcasts, in its current incarnation, is already a great leap for Apple and is quite usable.
The Oh-So-Pretty Interface
After you figure out what you want to listen to, here's a spot where Podcasts shines: Listening.
The basic controls let you fast forward, rewind and pause. The best buttons let you jump back 10 seconds or forward 30 seconds to either hear what you missed the first time or skip podcasts speakers who have long boring intros or hemming and hawing before they get into it.
If you flip up the cover art, you'll reveal controls based on an old-school reel-to-reel tape recorder. I doubt most kids will have any idea what the thing is, but no matter: As you progress through the podcasts, virtual tape reels from one roll to the other, and when you skip forward or back, the recorder physically reacts. Kind of cool, kind of funny, kind of dumb. I like it, though. A lot.
Another handy feature is the ability to slow a podcast down (turtle) or speed it up (rabbit). I listened to a podcast on the executive orders of presidents at the faster speed, which was perfect because I'm not sure I was interested enough to keep listening at regular speed.
So what if you run out of time or get bored? Podcasts seems to be able to hold your spot in a podcast, even if you leave to listen to another podcast. Come back, and there you are, right where you left off.
Podcasts vs. Top Stations
Another feature is a radio-like tool called Top Stations that lets you browse by category, then scroll down to see your options. These Top Stations options seem to be podcasts that stream from larger publishers -- or organizations that produce a lot of shows.
At the same time, it's hard to tell the distinction here. For instance, for some podcasts, it just seems to be another navigation/discovery method: If you tap a little "i" icon, you can see a list of episodes to download or subscribe to. At the same time, once I started listening to a station on your iPhone, I could not figure out how to pause a podcast stream. There are no controls. If you're on a station, you can dissever content, listen to it, subscribe to podcasts and download them, just not navigate through a podcast once it's started.
Maybe I'm too much of a podcast newbie to understand what's going on here, exactly, with all the streams and things. Either way, I'm pretty sure I'll be spending far more time on the Podcasts section of the tab vs. the Stations.
All in all, I'm suddenly excited by podcasts again. I don't waste much time commuting these days, but if you're a commuter or a runner, you definitely want to check out this app. For the rest of us, odds are if you spend a bit of time browsing podcasts, you might find yourself getting addicted.

---