Quickoffice Pro: Strong Cloud Connections, Dreary Look

Quickoffice Pro (Office and PDF), an app from Quickoffice, is available for US$14.99 at the Android Market. Many Android devices ship with stripped-down office suite apps that offer limited functionality loosely based on the kind you'd get with Microsoft Office on your desktop. A light Quickoffice is installed out of the box on the Sprint Motorola Photon phone, for example.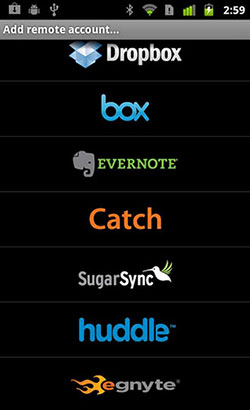 Having had a discussion recently with someone who now regularly travels without a laptop, depending solely on his Apple iPad for office functions, I was keen to see just how far these Office-like tools could go.
The light Quickoffice for Motorola on the Photon allows for the creation of new word processing, spreadsheet and presentation documents, but it's a rarity because many of the free apps don't allow document creation -- only reading. What would you get if you actually handed over some money?
The Apps
I tested Quickoffice Pro ($14.99); Dataviz's Documents To Go Full Version ($14.99), which I'd gotten free from the Amazon store during a promotion; and Mobile Systems' OfficeSuite Pro 5 ($9.99), also obtained free from the Amazon store during a promotion.
My emphasis in this review is on Quickoffice Pro, though, because that's the only one I actually paid for. However, I'll also comment on some distinguishing features of the other apps.
Quickoffice Pro
Heavy cloud support was apparent from the get-go. Google Docs, Dropbox, Box, Evernote, Catch, Egnyte, Huddle, SugarSync, and MobileMe were all available. I plugged in my Dropbox account and was immediately connected to my cloud files.
Tablet support seemed missing, and I wasn't able to get a PC browser-based Market to squirt the app down to my Toshiba Thrive tablet or my hacked Nook Color e-reader, forcing me to side-load from the Photon. A Quickoffice Pro HD app was available for another fifteen bucks that appeared tablet-oriented, but that was going to blow the budget.
Side-loading to the Thrive worked, and I was able to cloud-connect to my Google docs account flawlessly too. Unless you're rooted, choose the HD option if you want a tablet solution.
Creating new documents within Quickoffice Pro was intuitive, and the app allowed me to choose what version of the document I wanted -- for example, Excel 2010 Workbook, or Excel 97-2003 Workbook, and so on. There was also a PDF reader. Database a la Microsoft Access was missing.
I was a little disappointed by the look of the app. I found it a bit gloomy, in an overuse-of-the-color-teal kind of way. I couldn't see myself looking forward to opening the app while out and about, and I was keen to try the other apps because of this.
Documents To Go and OfficeSuite Pro 5
Documents To Go and OfficeSuite Pro 5 were both phone- (Gingerbread) and tablet- (Honeycomb) friendly, and consequently there wasn't any need to side-load or purchase two distinct versions of the same product.
Documents To Go included a proprietary desktop file synchronization function, plus Google Docs support. Push Microsoft Exchange support is available at extra cost. The UI look was equally glum-looking.
OfficeSuite Pro 5 had a crisper look with more vibrant colors against a grey background. Bearing in mind the similarity of function in all three of the apps, it's the app I'd be most likely to reach for on a grueling road trip. Remote accounts included Google Docs, Dropbox and Box. There was no Acrobat PDF reader -- but Adobe's is available free in the Market if you go this route.
Overall Impressions
Quickoffice Pro provided for significantly more cloud connectivity options, and that cloud connectivity alone substantiated the price of upgrading from the bog-standard free version, even though you could replicate the cloud connections using the remote account apps themselves.
For example, there's nothing to stop you downloading a file from your Dropbox-type solution to your tablet and then opening it within the base office app. It's cumbersome though. None of the apps provided Access-type database functions, which I found surprising.

---