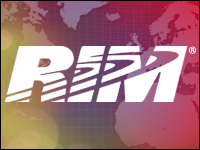 Research In Motion released a new version of its BlackBerry Enterprise Service mobile device management software on Wednesday. This comes just over a week before the official launch of the new BlackBerry 10 operating system and compatible handsets, and just days after RIM CEO Thorsten Heins suggested the company might abandon the hardware market and sharpen its focus on software.
The latest twist in the ongoing RIM saga is that BlackBerry Enterprise Service 10, which is now available for corporate and government users, can be used to manage devices running iOS and Android, as well as those running BlackBerry 10 and previous BlackBerry versions.
This new software features BlackBerry Balance, which could be welcome news for employers who want to take advantage of BYOD (Bring Your Own Device) savings but are concerned about data security — as well as employees who want to bring their own device to work but are worried about private information being exposed.
"BlackBerry Balance was designed to provide IT Managers the ability to empower their end users to be more productive while protecting corporate data and intellectual property," said Jeff Holleran, senior director of enterprise product management at RIM. "Work data is only available to applications within the work space on the device. BlackBerry Balance provides the security to prevent data leakage."
Easing BYOD
This could certainly make it easier for employees to bring their own devices to work, while providing IT managers with reassurance that corporate security isn't being compromised.
"It makes [IT mangaers] a little more secure, and at the same time eases feelings about having to give in to that relentless onslaught by employees to bring their own device," said Roger Entner, principal analyst at Recon Analytics. "It also shows that RIM is aware that it needs to separate the email server from the device. It means it will have two legs to stand on, not just one."
For RIM, which has seen the server as a crucial part of the system and has tied it to the device, this represents a big step forward.
"Without this change, the company's legs are tied together — and with that, you drown and sink together," Entner remarked.
Employee Privacy
Being able to bring your device to work isn't new, but BYOD IT management is new for RIM, and it will be interesting to see how this plays out — especially as the ability to offer employees privacy from their companies is unique to BlackBerry at this point. This functionality isn't available for iOS and Android, and it won't be any time soon.
"BlackBerry Balance is a unique solution that was built from the ground up in BlackBerry 10 with the ability to separate personal and work data while providing a single view across the personal and work space in specific RIM applications such as BlackBerry Hub," RIM's Holleran told TechNewsWorld. "With the deep integration into the operating system, this feature is BlackBerry 10-specific."
Whether this is enough to get RIM back in the thick of things is the big question right now.
"BYOD is new to RIM. Yet it may be very important, as others — like Apple iPhone and Google Android — are winning such market share," said telecommunications analyst Jeff Kagan. "If RIM were to ignore this elephant in the room, it could be a very big problem. If RIM can pull this off, it will be a big deal for them."
Managing Brought Devices
Exactly how important BYOD is going to be for employees is still uncertain, and whether they should even expect privacy when choosing to use a personal device in the workplace is debatable.
"Many people do use their mobile devices as an access to private email. It is meant to be a private," Entner told TechNewsWorld. "It is a big problem."
However, merely allowing outside devices on a company network is in itself a problem. This has been an issue for IT managers since the BYOD trend took off, and it's one that isn't likely to be resolved easily.
"There's a variety of methods that IT departments use to manage BYOD users," said Stephen A. Blum, president ofTellus Ventures Associates.
"It ranges from limiting access to the internal network — e.g., the same as accessing your business email from your home computer — to putting managed apps on devices, to installing a ring-fenced operating environment," he explained. "SAP, for example, provides companies with a way of creating a sealed-off area on consumer-grade phones."
Limiting access isn't always intrusive, but it can greatly limit the company resources an employee can access with a personal phone.
"You might be able to read your email but not access the company's customer relationship management system, for example," Blum said.
"It's the middle ground — installing corporately managed apps — where IT management can be intrusive, because security is provided in part by usage policies rather than largely invisible technology," he explained. "It's frustrating for both employees and IT managers."