Samsung Shows Off Svelte New Smartphone
By Paul Hartsock
Jan 5, 2011 3:51 PM PT
A couple of weeks ago, talk surfaced of a super-thin and super-bright phone in the works from LG. Despite whatever happens with the so-called "LG B," it won't be the only handset around with a bright smile and the thin waistline.
At Samsung's CES event Wednesday, Omar Khan, CSO of Samsung Telecommunications America, whipped out the Infuse 4G, what he called "the thinnest phone in the AT&T portfolio." That would mean it's slimmer than the iPhone 4, which itself boasted the thinnest form factor around when it was launched last summer.
The Infuse also touts a 4.5-inch Super AMOLED display, an 8 megapixel rear cam, a front cam for video chat, and a 1.2 GHz processor. It runs Android 2.2.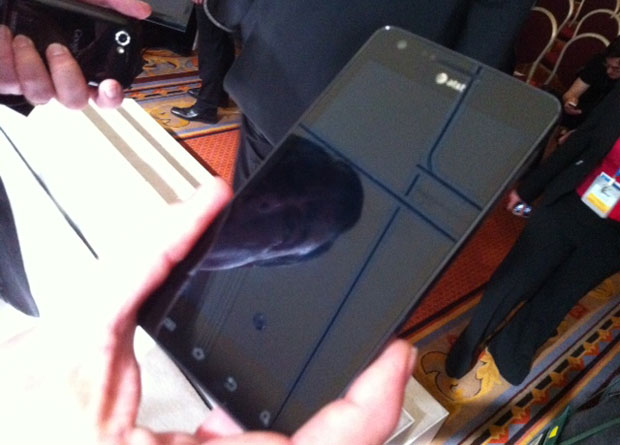 Samsung's Infuse 4G Smartphone
Expanding Galaxy
In other Android news, Samsung also gave a mention to its upcoming Galaxy Player. It's a Google-certified personal media player running Android 2.2 -- in other words, a Galaxy S phone without the phone.
Offering an Android system that doesn't come with the high monthly wireless bills smartphone users have to pay could help build a larger user base for the mobile OS. For teens and other users who aren't yet ready to make the jump to a smartphone, a PMP with a real mobile OS that runs apps is an attractive option. A lot of these customers will stay with the OS they're used to when it's time to upgrade to a smartphone.
The Galaxy Tab also got a moment of stage time with the announcement that a WiFi-only version of the tablet will be coming in the first quarter of the year.
What's on TV?
Televisions got their due at Samsung's event as well. David Steel, EVP of Samsung Electronics North America, acknowledged that there's been much discussion about the future of 3D TV and whether it's taking off as quickly as companies had hoped it would at this time last year.
3D remains a focus for the company -- in fact, 3D TV sales have surpassed the initial uptake of technologies like DVD, HDTV and Blu-ray, according to John Revie, SVP of Samsung North America.
However, in the television category, more energy appeared to be focused on new technologies not necessarily related to 3D. Samsung showed off a line of sets that are nearly bezel-free (two-tenths of an inch), as well as its new "1-Foot Connect" system, which lets users easily transfer content between Samsung TVs and other devices more easily than via WiFi.