Skinny Mini Joins Apple's Chorus Line
MacNewsWorld
Apple revealed not only the much-anticipated iPad mini Tuesday, but also a flurry of updates across its product line.
The full-size iPad, now in its fourth generation, gained a new A6X chip with twice the CPU and graphics performance as the previous generation's A5X chip. The 13-inch MacBook Pro picked up a graphic-intense Retina display. Apple also announced a beefed-up Mac mini. The iconic all-in-one iMac became thinner -- much thinner. The iMac's outer edge is just 5 mm wide. Plus -- almost just for kicks, it seems -- Apple improved the iBooks and iBooks Author apps.
"The biggest takeaway for me was that they delivered on the iPad mini rumors, but they also did a pretty impressive job of updating their entire line," Mike McGuire, vice president of research for Gartner, told MacNewsWorld. "The iMac in particular is just gorgeous."
Back to the iPad Mini
The new iPad mini has a 7.9-inch screen and the same number of pixels as the older-generation iPad 2 -- 1024 x 768. While this isn't one of Apple's highest-quality Retina displays, it does mean that the iPad mini will be able to run 275,000 apps that also run natively on the iPad 2. But is it thin?
Yes it is. To put it in perspective, the iPad mini, at 7.2 mm thick, is as about as thin as a pencil, noted Phil Schiller, Apple's senior vice present of worldwide marketing. However, it packs full functionality into that small frame.
"The iPad mini is every inch an iPad," he said more than once.
In addition to weighing only .68 pounds, the iPad mini runs an older-generation A5 chip but improves upon the iPad 2 by adding a new 720p FaceTime HD front camera, as well as a 5-megapixel iSight rear camera for 1080p video recording, and faster WiFi. Apple offers cellular models that are LTE and DC-HSDPA capable; both are eligible for the no-contract data plan options available through Apple's carrier partners.
"The hardware is extremely compelling," Ben Bajarin, principal of Creative Strategies, told MacNewsWorld. It's "very nicely designed, perhaps the best-designed iPad yet."
The iPad mini will come in black with slate and white with silver. WiFi models will be available Nov. 2 for US$329 with 16 GB of storage. The 32 GB model comes in at $429 and the 64 GB at $529. The WiFi plus cellular models run $459 for 16 GB, $559 for 32 GB, and $659 for 64 GB.
"Although the price will be perceived as a bit high, the bottom line is Apple has delivered a full iPad experience in this smaller, lighter, and more portable form factor," Bajarin said. "The fact that it runs all the over-275,000 current iPad apps is a big deal, and will fuel its differentiation as well as the success of the product."
The 4th-Generation iPad
While the iPad mini hogged the spotlight, the fourth-generation iPad with the standard 9.7-inch Retina display picked up some nifty improvements above and beyond a new Lightning connector. The new iPad's A6X chip is twice as fast as the processor it replaces.
"We're so far ahead of the competition now, I can't even see them in the rearview mirror," Schiller boasted.
In addition, Apple upgraded the front-side camera to the same 720p HD spec as on the iPad mini, bringing most of its products into the 720p realm. It also improved the unit's WiFi and LTE performance. Pricing didn't change -- the full-size iPad starts at $499 and ramps up to $829.
Apple has sold more than 100 million iPad units in two and a half years, CEO Tim Cook revealed. "This is unprecedented for a new product in a new category. To put this in perspective, we sold more iPads in the June quarter than any PC manufacturer sold of their entire lineup."
The 13-inch Retina MacBook Pro
The 13-inch MacBook Pro is Apple's most popular notebook. Like the bigger 15-inch line, the new MacBook Pro with Retina display sports an entirely redesigned set of internals. It's .75 inches thick, 3.57 pounds, and has a resolution of 2,560 x 1,600 pixels, four times that of the previous generation. The hard drive is Flash-based, starting at 128 GB and going up to 768 GB. There is no DVD drive.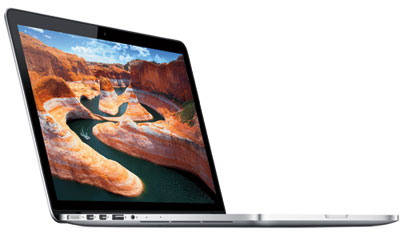 Apple's new 13-inch MacBook Pro
The compact unit starts with a 2.5 GHz Intel Core i5 processor with the option to choose the faster 2.9 GHz Intel Core i7 processor. Graphics are Intel HD Graphics 4000. The new MacBook Pro starts with 8 GB of 1,600 MHz memory. For connectivity, it has two Thunderbolt and two USB 3.0 ports, as well as a new
HDMI
port. The new notebook also features a FaceTime HD camera, dual microphones, improved speakers, three-stream 802.11n WiFi, and Bluetooth 4.0. Battery life should last up to seven hours, Apple said.
Pricing starts at $1,699.
The New iMac
Apple also revealed the next generation of its iMac, leading with the super-thin outside edge -- though the back middle portion is thicker. While entirely redesigned to fit the skinny new frame, the most interesting element is a re-engineered display that Apple says reduces glare by 75 percent. In addition, each iMac display is individually color calibrated in the factory.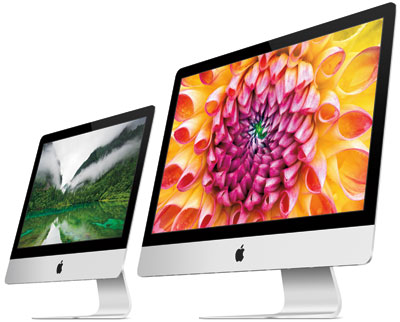 Apple's new iMac desktops
Next, Apple introduced what it calls its "Fusion Drive," which combines 128 GB flash with a 1-TB or 3-TB hard drive. It intelligently moves the most-used applications over to the faster flash memory to improve performance.
The new iMac features third-generation quad-core Intel Core i5 processors that can be upgraded to Core i7, while using Nvidia GeForce processors that Apple says deliver up to 60 percent faster performance for advanced gaming and graphics-intensive apps. Every new iMac now comes standard with 8 GB of 1,600 MHz memory and a 1-TB hard drive, upgradeable, of course.
The 21.5-inch iMac starts at $1,299, with the 27-inch starting at $1,799.
Apple also updated the Mac mini with new dual-core Intel Core i5 and quad-core Intel Core i7 processors that are up to twice as fast and have integrated graphics that are up to 65 percent faster. Mac mini comes standard with 4 GB of 1,600 MHz memory, but users can upgrade to up to 16 GB. The new Mac mini starts at $599.