Slick, Smooth Telepathy Between Desktop and iPhone
MacNewsWorld

MyPhoneDesktop, an application from jProductivity, is available for US$1.99 at the App Store.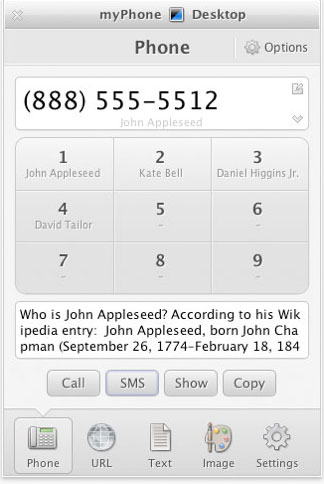 Every year, LG sponsors a texting championship where world's most dexterously gifted (mostly teens) thumb for the gold. The winner is usually someone who can text faster than a meth-addled courtroom stenographer can type, but sadly we are not all so freakishly gifted. We fumble around trying to compose emails that would make our friends think we're half illiterate were it not for that "Sent from my iPhone" excuse/apology/explanation at the end.
For me, the easiest way to input and move text is still a full-sized keyboard and mouse or trackpad. But sometimes certain work just needs to happen on the phone -- sending a long text message, for instance, or taking a URL with me as I get up to leave, or calling a number I see online. Yes, I am capable of sending an email to myself and using copy/paste, and no, I'm not quite too dumb to know how to physically dial a phone when the number's right in front of my face. It's just nice to have something to smooth the process, get notebook and phone to communicate a little better, and reduce the number of buttons one has to push to get things done.
MyPhoneDesktop, a combination iPhone and desktop application, does that, and the connection is all done over 3G or WiFi -- after you've set it up, there's no special sign-in required.
Getting Started
Once you download myPhoneDesktop from the App Store, it's very easy to set up an account. No credit card needed -- this is just a username and password so your computer can connect with your phone.
When that's done, consider sliding the icon for this app out of the way, onto one of those screens you rarely ever visit. You're not going to need to open this app from the iPhone directly very often; it's mainly there to receive information you push to it and automatically launch other apps.
Now it's time to get the other half of this application -- the desktop client you use with it, a free download for Windows, Linux or OS X at myPhoneDesktop.com. It's a small window containing buttons for Phone, URL, Text and Image functions. Whichever one you select, that's what myPhoneDesktop will do with the information you dump into it.
For example, if you select the Text option along the bottom row of the desktop app, you'll get a blank space where you can write or paste your text. Clicking the Show button below that will fling that text to your iPhone, ask permission to launch the mobile app via a push message, and instantly show the text. From there, it's all yours -- copy it, paste it, whatever. Or if you just want it to go onto your clipboard directly, save yourself a step and hit the Copy button on the desktop app.
Along with Show and Copy, there's an additional list of options that pop up when you hit the arrow key to the right. These can be used to tell your iPhone to automatically use the text to perform a Google search, a Google Maps search, or a Wolfram Alpha search as soon as it hits your phone.
More Ways to Connect
If you want to send a URL, you also have an Open button. Hit that and it'll fling the site to your iPhone, pop up a push message, launch the myPhoneDesktop Mobile app, and then from there automatically launch Safari with that site as a new tab.
The Phone option lets you automatically place a call to a number (nine speed dial slots are provided), show it on your screen or copy it to your clipboard. In Phone, the arrow button on the side lets you specify that the call should be placed with the Skype app if you prefer. There's a texting option as well, but that will only go so far as putting the message on the clipboard, cuing up the the SMS app, and pointing it at the number you provide. From there you have to actively paste the message and send it.
Finally, you can use the desktop app to send images to your phone as well. Select an image by way of drag-and-drop, copy/paste, file-chooser or URL, then send it using the Show, Copy or Save options, the last of which automatically puts the image on your iPhone's camera roll.
Swanky Shortcut
When I first heard about MyPhoneDesktop, I was hoping they'd be able to tie in some sort of right-click automation option to the desktop app -- highlight text, a URL, a phone number or whatever, then right-click and select an option to send it to the iPhone. That didn't quite happen, but they did manage to build something just about as good: an autosend shortcut (CTRL+C+C by default on PC, but that's adjustable). Highlight text in any application, hit that button combo, and myPhoneDesktop will swing in and fling it to your iPhone. The desktop app can run in background, so you don't have to keep the window open constantly. And it doesn't just all come through as dumb text when you use that shortcut -- phone numbers are recognized and sent as automated calls, and URLs popped in as Web pages (as long as they had the "www" included).
There's also a Web client, which will let you use most of the same functions without having to install software on your desktop. It lacks some of the more sophisticated features, but it's convenient when you're using a strange computer.
Bottom Line
There's always been another way to get this kind of info back and forth: Email. All this stuff is basically just images and text you want to send from one place to another, and that can all be done with email. So the big question for myPhoneDesktop is, does it work better than email?
Yes it does. It doesn't clog up your inbox with inane notes you no longer use. What the app does with the info is automated if you want it to be -- phone numbers launch the phone app, URLs launch Safari, etc. And you don't have to bring up your desktop email client or browser, sign in, address it to yourself, paste the message to the body, hit send, assure the app that it's OK to send this thing without a subject line, bring up your iPhone's email app, copy the info, open another app, and paste it there. Instead of all that, it's just CTRL+C+C.
So all myPhoneDesktop really does is save you a bunch of button presses. But sometimes that's enough to alleviate a whole lot of frustration.