Snow Leopard to Claw at Enterprise Front Doors
MacNewsWorld
In what looks to be a bid to penetrate the corporate environment, Apple has provided Snow Leopard, its upcoming version of Mac OS X, with the ability to sync with Microsoft Exchange Server 2007.
On Tuesday, Apple previewed Mac OS X 10.6, aka "Snow Leopard," at the Apple Worldwide Developers Conference (WWDC) in San Francisco.
Instead of focusing on new top-level features that a typical consumer might quickly notice, Apple is positioning Snow Leopard as a refinement of the current OS X 10.5, aka "Leopard." Snow Leopard will lay the groundwork for future innovation in the operating system, the company said.
Apple also unveiled Snow Leopard Server, a product that could be an attempt to tap into the billion-dollar market created by Microsoft SharePoint Server.
Gunning for the Corporate Market
No longer satisfied with sneaking into corporate America through the backdoor as individual users bring their iPhones and Mac laptops to work, Apple has made it easy for enterprise IT departments to work with the Mac.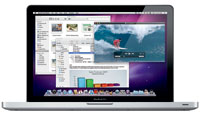 [Click Image to Enlarge]
Snow Leopard supports Microsoft Exchange out of the box -- a feature even Windows PCs lack, Apple boasts. Snow Leopard includes native support for Microsoft Exchange 2007 in its mail, calendaring and address book applications.
Snow Leopard's Features
Optimized for multicore processors, Snow Leopard will only run on Intel-based Macs.
Some users may be able to set up their own Macs running Snow Leopard in the corporate environment without needing IT's help. The Mail application in Snow Leopard lets users access their mail, calendars and address books in Microsoft Exchange Server without resorting to Outlook.
Snow Leopard has also made it faster to back up Macs, increasing the speed of the Time Machine backup feature introduced in Leopard by 50 percent.
Getting Along With Redmond
Apple's support for Microsoft Exchange is a good move, said Laura DiDio, principal at analyst firm ITIC.
"Closer integration, interoperability and support for Microsoft applications -- or, alternatively, Apple's own version of these -- will give Apple even wider appeal beyond its core constituency of devoted Mac users," she told MacNewsWorld.
On the other hand, syncing with Microsoft Exchange Server may not have much impact, observed Charles King, principal at Pund-IT.
"Apple has a very tiny footprint in business environments where this could matter," King told MacNewsWorld. "It could make life a little easier in companies that are all-Mac or have mixed Windows-Mac environments."
Further, corporate IT is not likely to let Mac owners use the Snow Leopard features to access their email, calendars and address books on Microsoft Exchange Server, King said.
"Since Microsoft Office is a fundamental part of the business office environment, IT managers would rather have one seamless technology across all their platforms than have staff supporting two email and calendaring and address book technologies," he explained.
Apple's hardware products are usually shrouded in tight secrecy until the moment they're unveiled at Apple-hosted events, but the company is often more forthcoming about planned software updates. Snow Leopard has been in the public eye for over a year -- it also took center stage at WWDC '08 -- and an upgrade should be available to consumers in September.
On Snow Leopard Server
Cupertino is also sending a volley Redmond's way with its server product. Apple is targeting Snow Leopard Server at Microsoft SharePoint Server.
Specifically, it's aimed at small studios, retail shops and home-based businesses. Snow Leopard Server enables collaboration, file-sharing and Web-site hosting, among other things, all of which are features offered by Microsoft SharePoint Server.
The pricing runs at US$499 for an unlimited number of clients, and the software can run on a Mac Pro, an iMac or even a Mac mini.
However, this product will claim only a small market, said Pund-IT's King.
"Unless there's a radical change, it will be taken up by traditional markets such as graphic design," he added.
Apple did not respond to requests for comment by press time, and Microsoft declined to comment.