The Tech-Adept Kitchen: A Home's Heart - and Brain
By Vivian Wagner
May 8, 2012 5:00 AM PT
We might never get to the point of having a Jetsons-like kitchen that prepares our meals for us, but some recent advances in kitchen technology are getting close to that.
Programmable ovens and stoves with pre-set recipes and instructions for various dishes, for instance, take much of the guesswork out of making a meal. In this way, Wolf's convection steam oven helps cooks along while they're making dinner.
"[It] properly adjusts the time and temperature based on the amount and size of the food being prepared, ensuring consistent, delicious results," Michele Bedard, vice president of marketing for Sub-Zero and Wolf, told TechNewsWorld.
"The Slow Roast program has over 10 specific food categories and adapts the cooking process based on a preselected time, allowing homeowners to tailor meal preparation around their schedules," she added.
The company also has a Smart Appliance app and Smart Appliance module for its built-in refrigeration units and E-series wall ovens.
"The Smart Appliance app notifies Wolf owners of pre-heat and timer completion, current oven temperature, and also when meals are finished cooking based on the internal temperature probe's reading," said Bedard.
"The app can also maximize energy efficiency by lowering the refrigerator's power consumption at different times of day. Specific lifestyle needs and preferences such as increasing ice production prior to entertaining, saving energy in vacation mode, and choosing the Sabbath mode for religious observances can also be met by the software," she noted.
Getting Smarter
The ultimate in smart kitchen technology is just emerging: appliances that communicate with the utility grid. Smart refrigerators will make ice, defrost themselves, or do their other higher-energy activities during the night, when electricity is generally cheaper for those utilities with pricing structures based on time-of-day usage.
Some GE kitchen appliances already come equipped with GE Brillion technology, which makes them smart grid-enabled. With these appliances, consumers plug a GE Nucleus home energy manager into a wall socket, and it communicates with all the GE Brillion appliances in the household. Consumers can receive maintenance and service alerts and monitor energy consumption.
"We're very focused on home energy management," said Julie Wood, spokesperson for GE Appliances. "We think that if consumers understand how they're using energy, smart appliances can save money. We have this system, and it enables people to see their energy usage and make changes."
Gadgets Galore
It's not just appliances that are getting smarter. Gadgets have game, as well. The iGrill, for instance, uses a wireless cooking thermometer that connects directly with iPhones, iPads and iPods. Using a Bluetooth connection, the device sends temperature data up to 200 feet away, measuring and monitoring the food and alerting the cook through a smartphone app when it's ready.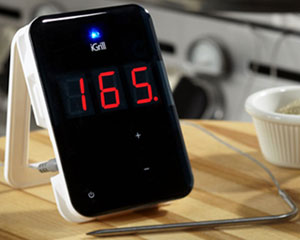 "The biggest thing is that it gives you time," Chris Allen, CEO of iGrill manufacturer iDevices, told TechNewsWorld. "You're not married to the grill or the oven. Everyone entertains, and the last thing you want to do is be stuck by the grill and not be able to socialize with friends and family."
The device also enables cooks to post pictures and information about what they're making on social networks.
"It creates a social network for this grilling and cooking market," Allen said. "You can see different ways that people do things. Everyone has a different way of grilling or smoking meat."
Everything Old Is New Again
Cooking with the sun is nothing new. In fact, along with fire, using the sun's heat is one of the oldest ways of preparing foods. Yet it's also a trendy new way of saving energy, lowering heating bills, and being prepared for emergencies -- whether in the heart of a city or in a remote, off-the-grid wilderness.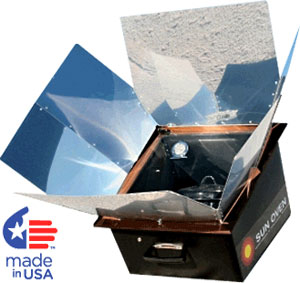 "It's a very basic technology," Paul Munsen, president of Sun Ovens International, told TechNewsworld. "Cooking with the sun goes back thousands of years. What makes our Sun Oven unique is that the materials in it allow it to get very hot."
Those materials -- highly-polished anodized aluminum reflectors, black anodized aluminum inside, and a tight gasket -- allow the oven to reach temperatures hot enough to bake bread, roast chickens, and make soup. It might not be high-tech, but according to Munsen, these outdoor kitchen appliances have been seeing a rapid growth in sales over the last several years.
"When people discover it, they realize it's not just the cost benefit," said Munsen. "There's a whole lifestyle benefit."

---