TuneIn Radio Pro: So Good You'll Start Listening to the Radio Again
MacNewsWorld

TuneIn Radio Pro, an app from Synsion Radio Technologies, is available for 99 US cents at the App Store.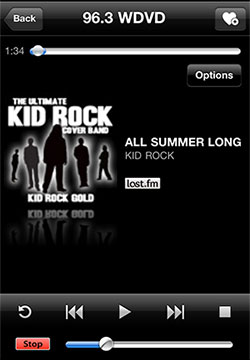 TuneIn Radio Pro
I've been skeptical of streaming radio apps for my iPhone. I've been mostly disinterested because between Pandora and my iTunes music purchases, do I really need to listen to annoying radio advertisements too? I mean seriously, while driving down the road listening to the radio at 70 mph, I sometimes want to beat my head against the driver's side door glass when the inane head-worm ad jingles start infecting my brain. It's just not safe. Why would I want to pack the radio in my iPhone?
When I noticed that 1,400 users of the TuneIn Radio Pro app had granted the most recent version of the app with a 5-star average rating, I thought, "Wow. Something must be going on here." I promptly shelled out 99 cents and installed it on my iPhone 4.
I was blown away.
First of all, the app is quick and intuitive to use. I tried the "Local Radio" option first, which brought up a list of local radio stations. I picked one, and boom, I was listening to a live morning show. Not bad. I hooked my iPhone up to some speakers in my kitchen and put away the clean dishes, listening to the jokes and news and occasionally a song as I cleaned the kitchen. I haven't listened to the "radio" in my house in years.
Stations Across the Land
In addition to local radio stations and gobs of stations across the United States, you can browse through stations by geographic region. In less than 15 seconds, for instance, I found a station out of Belgium and was listening to some sort of electronic Euro hits. Not my thing. But still, what this means is that you can put easy access to radio stations in your pocket. And it's fast. Did I say it's fast? The app displays and acquires streams quickly enough that you won't lose interest or get irritated waiting around for your music.
Years ago I moved away from Colorado, which happened to have had an edgy and hilarious morning show. The move was great, except my new location had a bunch of boring, sterile radio shows. I had about given up on radio altogether until I found Lex & Terry -- which lasted a few months before the local radio station ditched them. Too edgy or too expensive for the station, or maybe both. Either way, I just couldn't hang on the Lex & Terry website, so they fell off my radar. Until now.
A Mobile Radio DVR
The great thing about TuneIn Radio Pro is that it has a handy DVR-like functionality built-in. You can pause a stream or fast-forward or rewind through it. What happens when someone says something funny and you miss it? You can skip back several seconds with just a quick tap and listen to it again. Plus, you can record streams and play them back later.
Unfortunately, you can't export these streams, and Synsion Radio Technologies, the app maker, says it has to do with Apple terms of use restrictions. I was curious about possible copyright issues with being able to record all these radio stations, but I found nothing about it on the company's website, and when I ran several searches online, I found no mention of any possible issues.
Even though you can't export songs, for example, or radio shows, you can play them back at will via TuneIn Radio Pro, which fully supports multitasking. In fact, while listening to the radio I checked email and surfed the Web -- and you can surf the Web, by the way, via Safari or via a built-in Web browser, so you don't have to leave the TuneIn Radio Pro app at all.
Excellent Music Discovery
The TuneIn Radio App is surprisingly rich, offering multiple ways to find stations, types of music, and particular songs. You can browse through a Music section, tapping down into types of music. Tap Alt. Rock, for example, and it'll load a big list of alternative rock stations and show what's currently playing.
For example, I found Kings of Leon's Pyro playing out of K-Rock in New York. Tap on it, and boom, you'll enter that stream. Most often, you'll miss the start of songs this way, but the feature lets you find the songs you want ... or find the stations you want based on the kinds of content they are playing.
Once on a station, you can tap the Options button and view the station's playlist and schedule. If you view the playlist, it shows you a list of the previous songs played by the station and the time the station broadcast them. Tap a song from the playlist, and it'll generate a new list of stations as search results, some of which show the song playing, show the artist playing, or some other sort of correlation I haven't figured out. In any event, the search results always showed me stations with playing content that was similar to what I was looking for.
There's more than music, though. You can access talk radio shows, as well as sports broadcasts.
All in all, TuneIn Radio Pro features multiple avenues for finding, discovering and listening to radio content. Plus, it has a rich array of settings, which can let you schedule recordings, use TuneIn Radio Pro as a radio alarm clock, and decide how you receive your streams. For instance, you can stream radio via your cellular data plan or via WiFi only, and the settings feature keeps a running total on how much data you've streamed. If you're on a low-use cellular data plan, you'll want to keep an eye on this and make sure you don't leave the radio running in the background. If you have an unlimited plan, you're fine there, of course, but you probably don't want to leave the default recording preset at 8 hours before it automatically turns itself off.
The Bottom Line
There's a free version of this app, but since the pro version is just a buck, I didn't bother with the free version. If you like music, talk shows, or sports radio, you really can't go wrong by buying this app. It's fast, easy to use, and it's feature-packed.
Oh, and one more thing: If you buy the iPhone version, you can install the iPad version for free. And the iPad version offers a richer interface that's even easier to use. It's just less portable.
All in all, I agree with all the other 5 star reviews: TuneIn Radio Pro is a great app.