TweetDeck Tweaks Make Latest Release a Joy to Use
MacNewsWorld
Tweetdeck is a free app from Twitter that is available on the Mac App Store.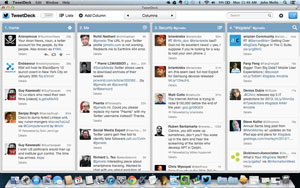 Tweetdeck's light mode is easier on the eyes if you look at it for a long time. (click image to enlarge)
It doesn't take long for a new user to find Twitter overwhelming. That becomes especially true as you add and attract followers to your account.
Twitter has some tools for grappling with tweet overload. There's a list function, for instance. It lets you create lists of people you're following.
For example, you could create a list of all twitteristas you follow who also follow your favorite baseball teams. Then you can quickly isolate their comments from the rest of Twitter feed to get their opinions on a big trade or the prospects for the old home team for the coming year.
Lists are valuable for organizing Twitter followings, but they, too, can multiply. As they do, their value diminishes. That's because time must be spent maintaining all the lists. Finding a particular list in a list of lists can become onerous over time, too.
Enter TweetDeck
That's where TweetDeck comes in. The free program lets you organize your Twitter stream in a format that makes the information in them easier to analyze. What's more, it lets you plug searches into the mix, adding even more value to your microblogging experience.
Recently, Twitter, which purchased TweetDeck from its developers in 2011 for US$40 million, made more than 70 changes in the Mac version of the app that have improved many aspects of it.
For instance, the latest update of the app, version 2.1.0, now supports Twitter cards. Cards were part of a recent overall Twitter redesign. They allow rich media -- like photos -- to be embedded in a tweet. Cards recently became a sore point between Twitter and Facebook-owned Instagram. The tiff resulted in Instagram scrapping support of Cards from its website.
Improved Looks
Including Cards in TweetDeck streams makes them more visually attractive -- the thrust of many of the changes in the new TweetDeck.
For example, text, icons and buttons are more legible. Font sizes can be controlled from the settings menu, as well as column widths. Fonts are available are small, medium and large sizes. Column widths can be narrow or regular.
You can also add other Twitter accounts or a Facebook account from the settings menu, and you can also choose a link-shortening service. Since tweets are limited to 140 characters, keeping URLs short is an important issue for the Twitterati.
By default, TweetDeck's color scheme is light gray lettering on a smoke gray background. Links, hashtags (#whatever) and Twitter addresses (@nobody) are in blue. The links and such really pop on the gray background, which is what you want them to do.
New Color Scheme
With the new TweetDeck, you're given an alternative color scheme. It has a white background with dark gray text and blue links, hash tags, URLs and Twitter addresses. The gray on white alternative may be easier on the eyes if staring at TweetDeck for long periods of time.
Color switching is performed by clicking a button on the TweetDeck toolbar at the top of the app's main Window.
Also from that toolbar, you can check your lists and add a new column to TweetDeck. You can define what you want to see in a column. You might want to see the tweet stream from everyone on one of your lists or the stream from a particular search.
When you create a column, TweetDeck will display a screen with suggestions for the silo's subject -- timeline, interactions, mentions, trends and such.
New Shortcuts
The TweetDeck toolbar also has column control buttons. They allow you to quickly slide left or right through your columns.
In addition, from the toolbar you can search Twitter, access your settings and create a new tweet.
When you create a new Tweet from the toolbar, you're given three options: upload a picture, schedule when you want the tweet to appear on Twitter or email the tweet someone.
With the new TweetDeck, you're given an even quicker way to create a Tweet: just press the letter N on your keyboard. A fast send shortcut has also been added. It's activated by pressing command-return together.
Bulwark Against Irrational
The new TweetDeck, which has added Retina display support, has also added new "top of column" controls.
For example, when your cursor hovers over the top right corner of a column, the word Edit appears. Clicking it opens a menu for activating notification sounds and popups, as well as clearing all entries or deleting the column.
Depending on the source of the column, other options are offered, too. If the column is based on a list, a control is included to edit the list. If the column is based on a search, you can change the search terms from the menu.
While the latest improvements to TweetDeck aren't earth shattering, they do improve a very useful program. Some older users of TweetDeck have complained that the software has gone down hill since Twitter bought it. However, being a relatively recent adherent to the app, I've always found it a valuable asset in rationalizing a service that can be maddeningly irrational at times.

---