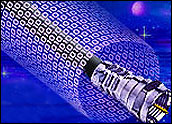 Bandwidth aggregation products, such as WAN link controllers, enable a business to purchase multiple low-cost network connections (i.e. DSL, cable, fiber, wireless, etc.) and combine them to give it the total bandwidth required. The customer can then easily and flexibly add bandwidth as the organization's Internet usage increases.
As an organization grows, so does the number of employees, partners and customers that use its network. A company may find itself needing more bandwidth to connect its organization to the Internet, or new leased line connections for its remote offices. However, a small to medium-sized enterprise's (SME) Internet bandwidth requirements may not have grown quite enough to move up to the next level of connectivity, such as replacing a T1 with a T3 or bonded-T1. There is a cost-effective alternative using WAN link controllers that aggregate bandwidth — automatically load balancing traffic among multiple Internet connections to ensure optimal network performance, and providing connection failover for reliable Internet connectivity.
Optimizing Bandwidth Costs
Today, most organizations in urban and suburban areas use broadband and/or more reliable dedicated leased lines for Internet connectivity. Over the last several years, T1 connections have come down significantly in price but still cost an average of US$400 per month. In more remote areas, a T1 connection can still cost upwards of $2,000 per month. This is a cost that many SMEs can't afford. Their alternative is to use lower-cost but less reliable broadband connections such as cable, DSL, fiber and wireless.
Broadband providers often offer business packages with service level agreements guaranteeing bandwidth speed and uptime — at lower prices than a T1 connection. For example, a business-class fiber connection to the Internet might deliver 15/2 Mbps (megabits per second) for $60 per month. Cable business Internet packages can range from $60 per month for 4 Mbps/384 Kbps to $160 per month for 8/1 Mbps.
With a business-class cable connection, an SME can save $360 per month compared to a T1 connection. By aggregating bandwidth from multiple broadband connections, the SME can also have more bandwidth, i.e. 15 Mbps downstream and 2 Mbps upstream, compared to 1.5 Mbps up and down for a T1 connection. They also gain the additional benefit of redundancy in the event that one of the ISPs has an outage.
By applying channel bonding, using WAN link controllers between two sites, the SME can take network connections from different ISPs (without their participation) and combine the two connections into one virtual connection to affordably gain more bandwidth. For example, the SME can combine a business-class fiber connection (15/2 Mbps), and a business-class cable connection (8 Mbps/1 Mbps) to receive a total bandwidth of 23 Mbps/3 Mbps.
Again, compared to a T1 at $400 per month with 1.5 Mbps up/downstream, the channel bonded fiber and cable connections with a combined cost of $220 per month with 23 Mbps/3 Mbps delivers a fast return on investment — not to mention the built-in reliability that can't be achieved from a single ISP.
WAN Link Controllers Address 2 Primary Bandwidth Management Problems
The first example is where a business is looking for ways to lower its monthly costs for Internet connectivity (bandwidth). A WAN link controller will enable it to replace an expensive dedicated circuit with multiple low-cost broadband connections (such as cable, DSL, wireless, etc).
Alternatively, if the business already has a dedicated circuit and needs additional bandwidth, rather than having to upgrade to an even more expensive dedicated circuit, it can simply add a low-cost broadband connection. The WAN link controller will manage both the dedicated circuit and the broadband connection.
If a business is using mission-critical business applications such as VoIP and email, these applications can fail due to their reliance upon a single ISP connection. If that single connection goes down, the delivery of the application will fail. Similarly, if network throughput is slow (e.g. a large file transfer slows voice traffic because both applications are both limited by the same connection), business will suffer.
Cost-Effectively Improving Internet Performance and Reliability
WAN link controllers manage Internet traffic going to and from a business over two or more Internet connections of any type. Continually checking all connections for performance and uptime, if a connection problem occurs, the WAN link controller directs traffic to the working connections.
WAN link controllers automate Internet connection failover among multiple ISPs. Traffic load is analyzed and routed to the ISP connection most able to handle the traffic at that particular point in time. This form of "always-on" network resiliency ensures business continuity. Not only can businesses ensure network uptime, but they can also lower bandwidth costs by having the flexibility to choose lower cost network connections.
During an Internet outage, IT departments typically scramble to find and fix the problem. With a WAN link controller deployed, when a connection failure occurs, the IT department only knows about it because WAN link controller sends them a notification.
---
Ron Thomas
is president and CEO of
Ecessa
, a manufacturer of WAN optimization products.