Vevo Brings Music to Life Through Video
MacNewsWorld

Vevo is available in the iOS App Store for free.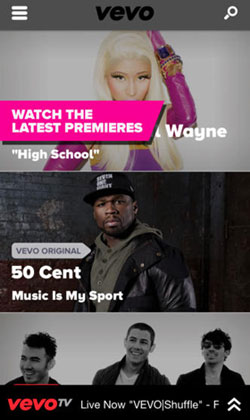 If you've watched and listened to music videos posted on YouTube, you've likely seen quite a few major stars with official channels featuring their names with "Vevo" slapped on the end of them, like OneRepublicVevo or LukeBryanVevo.
Vevo is a Web-based music video service that also has an iOS app. Said app was just updated to provide AirPlay support, in fact -- but wait, there's more! Specifically, there's also a rumor making the rounds that Vevo might deliver a dedicated music-video-TV-sort-of-channel app for the Apple TV.
So I took Vevo for an iOS spin for the first time.
The Power Is in the Playlists
Vevo has most of the major new video releases, and since it's all about music and music videos, you don't get your viewing and listening experience cluttered up with weird search results online. You can step through the hottest videos, see what's featured, discover new music and even let the Vevo team broadcast some playlists for you -- complete with reminders about when the list will "air."
Browsing Vevo is moderately interesting -- at least for a guy like me who is relatively busy. The downside to the latest and featured videos is that they tend to have 30-second video commercials associated with them. After 15 seconds of some makeup or skin-care product commercial, I'm out of patience. If the commercial gets stuck loading, I'm more likely to back out of the Vevo app entirely and move on. Then again, I've got an admittedly low patience threshold for free music experiences.
So where Vevo shines for me is in the ability to create playlists and then let those play through, whether or not I'm paying attention to the actual video.
Fortunately, not every video in your playlist will be saddled with skin-care commercials.
AirPlay to the Living Room
Better yet is the new ability to start playing a playlist and use AirPlay to show the videos on your HDTV via a connected Apple TV. Not only does this let you use your TV's sound system, it also provides great background music and activity during a party -- I imagine -- or when it's time to tidy up the house (I'm not imagining this; it's real).
Unfortunately, if you're using Vevo on your iPhone for this purpose, it's a little tough to use your iPhone for everything else without interrupting your AirPlay stream. This is where a dedicated Apple TV Vevo app could become quite useful.
Of course, Vevo is more than just music videos and playlists. It also features all the standard social media tools so you can share what you find interesting as well as drop into iTunes to buy a song that you like. The communication in the Vevo app also pays attention to your iTunes songs -- you can match the artists that you already have on your iPhone to their music videos available through Vevo. This is a great feature that lets you cut through the clutter of all the videos you never want to see or hear and instead get right to the good stuff.
There's also a bunch of Vevo "shows" associated with artists, industry commentators, news or style; some of which may or may not be glorified commercial sponsorship vehicles. One show, for instance, is The Comment Show, which is a series of funny snippets about dumb, funny or flammable user comments on videos. If you've got time on your hands and don't know what to do with it, the show is watchable enough, all of which leads me to believe that Vevo is the kind of service that could work also as a channel.
In terms of quality, my experience was both insanely great as well as choppy and bad. The big question is where the problem was -- my home WiFi, AT&T 4G service or Vevo? Hard to say, but more often than not, I was able to watch HD videos on my iPhone 5 in acceptable quality.
All-in-all, while the iPhone world is on the cusp of getting iOS 7 with iTunes Radio, Vevo is a focused and solid player that's well worth checking out, particularly if you're a music video fan.

---