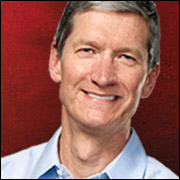 Apple CEO Tim Cook recently wrapped up his second trip to China in less than a year. While there, he met with regulators, declared that China would become Apple's biggest market, and talked shop with the nation's No. 1 mobile carrier, China Mobile.
Apple has something of an identity crisis in China. While its mobile products in particular are viewed as the must-have devices for technophiles, they are far out of reach for the average consumer there in terms of price.
This dichotomy has spawned rumors that Apple might create a lower-priced iPhone for consumers in China and other developing nations.
Listen to a podcast featuring Charlie Custer, the China editor for TechInAsia.com, who talks about Cook's trek to China, how the nation's wages complicate the Apple business model, the hurdles posed by China's zealous regulatory system and more.
---

Download the podcast (20:21 minutes) or use the player:
---
Here are some excerpts:
TechNewsWorld: Let me as you first ask about the perception of Apple in China. In the U.S., the pro-Apple contingent tends to be extremely loyal and extremely defensive of Apple products, from Mac computers to iPhones. I think on the flip side of that, the anti-Apple people kind of roll their eyes at Apple prices and the perceived quirkiness of Apple products. What is the overarching impression of Apple in China? You've lived there, I'm curious what people say about Apple and kind of how it's perceived by the general population.
Charlie Custer: It's pretty similar to the way it is in the West, certainly in the sense that there's a contingent of very loyal Apple fans who want to get their hands on every new product the day it comes out. And then there's a contingent of skeptical cynics who say, "You guys are idiots. You're paying six times as much for these things as you could be paying for an Android version of the same thing."
The difference is that because incomes are much lower in China, and Apple products actually cost more in China than they do in the U.S., it really is like a luxury good in China, especially Apple mobile products, which are more popular in China than the computers by far, are kind of like a status symbol thing.
Look at My Phone
People love — especially the new models when they come out, if they look different than the previous model, so that people can see — when you pull it out on the train or whatever — that it's an iPhone 5, not an iPhone 4, not an iPhone 3S. Those tend to do very well … because part of it is these things are a status symbol and a symbol of wealth. People buy them partly for the technology, and partially because it's attractive and sexy and makes you feel rich and important to pull out an iPhone 5 on the subway and have other people looking at you jealously.
TNW: The price issue is especially relevant this week because Apple announced that they would start letting buyers on their Chinese website pay for things in installments of up to two years. This seems like it's probably targeted toward the demographic that you were talking about: someone who can, in theory, afford an Apple product, be it a computer or phone or whatever, but doesn't want to pay for it all up front.
There was a good article in Businessweek about this, where they said the iPhone 5, which was released in December in China, cost about 5,200 yuan, and 5,200 yuan is about (US)850 bucks. So it's not as though Apple accommodates the Chinese currency by knocking down all their prices. It still is, like you said, pricey, if not pricier. Do you see Apple being able to balance its dueling qualities of being really, really expensive and also wanting to get into China?
Custer: That's clearly what they're trying to do. There are two factors to it. One is that they're clearly unwilling to lower their profit margins. I mean, they could cut the price of their mobile products in half and still be making a profit, but it's clear they're not going to do that.
The reason Apple products are more expensive in China than in the West is that in addition to the regular price, there's also a tax. It's funny — even though all these things are made in China, there's also a tax because they're a foreign tech company and they're imported products. They then build that into price they're selling to the Chinese market, so they are literally more expensive in China.
TNW: Another interesting development when you talk about the prices of Apple products is the report that came out earlier this month, in January, that Apple was going to look at building a cheaper version of the iPhone. The reports I saw said that it was going to be specifically targeted at Asia, and presumably China. Like you said, even though Apple has had success with iPhone sales in China, it still is taking up just a minute fraction of the overall smartphone market, which is just enormous.
Having a cheaper alternative seems to be a way to tap into that. I wonder, though, how that's going to play in China when one aspect of Apple's popularity is the fact that it has some cachet or that it's sexy. What do you see being the reaction to perhaps a cheaper, totally-functional-but-not-quite-as-cool iPhone?
Custer: I would be a little skeptical that they're actually going to do that, just because I do think — at least in terms of China — that would sort of, maybe damage isn't the right word, but it would certainly change their branding a little bit and sort of change the perception. I mean, if they start offering a lower-cost smartphone, then it's not really a luxury company anymore, right? There's no Louis Vuitton bags that are $20.
That said, it's possible. I haven't crunched the numbers, but I'm sure that somebody at Apple has. And they may have decided, "Who cares? We can make more money by tossing the luxury thing and appealing to this larger market of people than we can making a lot more money per device on this smaller market of luxury and aspirational luxury buyers," which is what they have now. So it's certainly possible.