When It Comes to Mobile Browser Speed, This Puffin Can Soar
MacNewsWorld
Puffin Web Browser is available for US$2.99 in the iTunes App Store.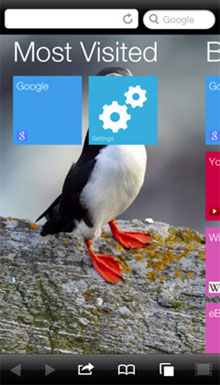 In order to entice me away from one of Apple's standard built-in apps -- like the Web browser Safari -- I need something faster, more functional or with a slicker design. Usually, I expect a combination of these features before I'll take the leap.
Puffin Web Browser by CloudMosa has been doing pretty well in the Utilities section of the iTunes App Store, hanging around as one of the top paid utilities. At $2.99, it's not exactly expensive. Still, it's just another mobile web browser, right?
Not exactly.
CloudMosa claims -- with plenty of hyperbolic language -- that Puffin Web Browser is wicked fast: "Once users experience the thrill of using Puffin, regular mobile Internet just feels like torture."
Putting Puffin to the Test
I don't have a lab where I painstakingly benchmark anything. If it's fast, it'll feel fast. Nevertheless, I opened up my iPhone 5 to use as a stopwatch and set it next to my iPad 2. I first cleared out Safari on my iPad 2 by deleting all history, cache and cookies. Then I shut the app down entirely so I could relaunch it fresh. I opened up Puffin Web Browser and dutifully read through the first launch page, which details how to use Puffin and some of the features it has that Safari does not (more on that later).
I typed in MacNewsWorld, hit the iPhone stopwatch app while tapping the "Go" button on the browser keyboard to launch the URL. The results?
Whoa.
It was fast. Mind-blowing fast.
The main page loaded somewhere within 2-4 seconds. Why couldn't I tell exactly? Elements of the page were loading boom, boom, boom, and I wasn't sure if all of it was loaded or not. By the time I was sure, I know I wasted at least a second and a half. I'm human, not a machine. But I must say, I was impressed. I tapped over to some other main pages in the ECT News Network family and again, boom, boom, boom, they loaded super-quickly.
And Now Safari
I did the exact same steps with Safari on my iPad 2. Because MacNewsWorld is an optimized web site that generally loads quickly anyway, Safari loaded it up with little pain. It was noticeably slower, although not painfully slow. I stepped through the same sites in the same order, and it was also mostly boom, boom, boom.
So far, Puffin was proving to be a little faster, but not crazily so. Next, I turned to some popular destinations around the web, switching back and forth between Puffin and Safari, and every time Puffin seemed a bit faster, a bit snappier, and -- dare I say it -- a bit more pleasant.
That is, until I loaded up one page and the blue bar across the top of the URL seemed to hang up and grow slowly. I had time to think, "Hmm, maybe Puffin isn't so fast on every site. What's going on here?"
I was wrong; while I was madly switching back and forth between the two browsers, I thought I was using Puffin but was really using Safari. Hence the delay.
Next, I found some image-heavy blogs, and more complicated web sites, and tried those out. In every instance, Puffin was faster, and on some less-than-optimized web sites, it seemed faster by several seconds (and yes, when I realized that my stopwatch effort wasn't accurate, I stopped bothering to focus on the comparisons and feel).
Puffin also claims to have the fastest JavaScript engine, boasting that "Puffin is 550 percent faster than the built-in browser on iPad 3, and 1600 percent faster than Chrome and other alternative browsers on the iOS platform. Additionally, Puffin is 500 percent faster than the latest & greatest Chrome on Nexus 7."
This claim is based on the SunSpider JavaScript Benchmark. Is it true? I don't know, but it feels true.
More to Puffin than Speed
There are a few other notable features of Puffin Web Browser that are worth mentioning. These are above and beyond all the standard browser features you would expect.
First, Puffin seems to do a better job of ignoring the mobile versions of some web sites in favor of giving you the full version. Occasionally, it seems like I run into a situation where a web site keeps trying to get me to download its mobile app, or simply won't show me the full web site. Aside from learning to avoid these sites, I now know that I have another browser option to try out if it happens again.
CloudMosa claims that Google's Gmail forces Chrome to switch to the mobile version, but Puffin lets you avoid that. I don't use Gmail with Chrome, so this claim means nothing to me.
Puffin's claim to fame in 2011 was that it supported Adobe Flash. Remember how irritating it was when Apple refused to offer any sort of Flash support? There's not many Flash-based sites I feel like I really need these days, but occasionally I'll run into one, at which point I navigate away disappointed or drag out my MacBook. Puffin, however, will let you run Flash right from its browser.
I thought I'd try it out. Where? South Park Studios, which uses Flash-based video. First, I tried it in Safari. The site loaded up OK but once I tried to play a video clip, I got a video window that said, "This page requires Adobe Flash 10 or better."
Safari did not work. No surprise there.
With a narrow little grin on my face, I tried Puffin.
Nothing happened. The page wouldn't load at all. I scratched my head. My grin disappeared. I tried to reload the page. Nada. Frantic, I tried Yahoo. Nope, wasn't loading. Then I noticed a little icon in the bottom left with an "i" and a "Wait to reconnect" message.
I tapped it. I got a pop-up window that said, "Last connect failed on connected render server," followed by an IP address, and then, "Please wait for a while and Puffin will retry to connect server again."
Suddenly Puffin was the opposite of fast. I flipped back to Safari and tried connecting to a few sites again just to make sure my WiFi connection was up and running. It was. Safari worked, slow but reliable.
I closed Puffin entirely then restarted the app. I was into South Park Studios in a few seconds. Fast. Nice. I played a clip. The movie trailer ad was garbled, but was sort of playing. The South Park clip played, but the audio was slightly off of the action. Conclusion: Flash may or may not be workable for you.
Need a Mouse?
Occasionally, I miss a mouse pointer on my iPad or iPhone. In a totally un-Apple move, CloudMosa included a trackpad feature that floats above your web page and gives you a mouse pointer. Not only can you move it with precision, but it's there to help you bridge functionality when you run into variances between desktop browser and mobile browser experiences.
There is also a free version of the Puffin Mobile Browser, but it only includes a two-week trial of the Adobe Flash support. If you don't care about Flash but are interested in trying out the Puffin speed experience, the free version will likely suffice.
Puffin hasn't replaced Safari for me, but it's earned a spot on my iPad 2, and I'll likely try it out on my iPhone 5 -- especially when I find myself in some far off place with not-so-great mobile Internet connectivity.
In the meantime, I'll go back and forth for a few weeks to get a feel for long-term reliability of CloudMosa's service. If I keep losing connections, I'll go back to slow and steady Safari. If my disconnect problem is rare, Puffin might displace Safari entirely.

---