Aplicor rolled out Cloud Suite 7 last month — the latest update to its flagship suite — with some significant changes. One, the user interface, backed by new Microsoft Silverlight technology, is now completely customizable depending on the end-user's needs.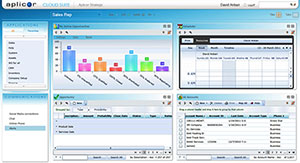 (click image to enlarge)
Two, it has completely integrated the CRM and accounting modules. The end result is an application that lets users pin any manner of tiles or panels to their desktops based on data from either the CRM or accounting module.
"If a customer has a particular job function that requires them to look at opportunities, but also orders or open purchase orders — all that is available from the same tiles or panels now," Pete Koltis, vice president of services, told CRM Buyer.
User Interface
The integration between CRM and accounting is not that great a leap for customers, Koltis added. The two have always been tightly intertwined. In this application, however, they were combined into one module.
The more apparent change is the user interface, he went on to explain.
"We went from a traditional menu structure that consisted of screens and rows and tabs and forms that the consumer was forced to navigate, and rewrote it using Silverlight."
The change gives end-users far greater control over what they are displaying, Koltis said. It means that they can almost design their desktops based on job responsibilities.
NetSuite, Great Plains and Quickbooks
With the accounting and CRM modules combined, Aplicor is now in a position to compete for customers that use NetSuite, Great Plains or Quickbooks, noted Koltis.
"We have the general ledger, accounts payable, purchase order management — all the things that would be considered financial management or light ERP — in the same module with the CRM functions," he said.
Moving from one function to another is now seamless, Koltis remarked.
A typical desktop, he said, now might look like this: "You could have one tile that shows me a particular customer, and a panel that shows all of the contacts for that customer, and another of my recent activity with them, and another with the related financial transactions."
When it comes time to move on to another customer, the data changes, but the tiles and panel displays remain the same.
Quarterly Update
Like many on-demand vendors, Aplicor updates its application every three months.
It will be releasing 7.1 on June 30, Koltis said. That version will have additional tools for partners and customers to help configure the application.