ExDialer Pro is available in the Google Play store for US$3.99.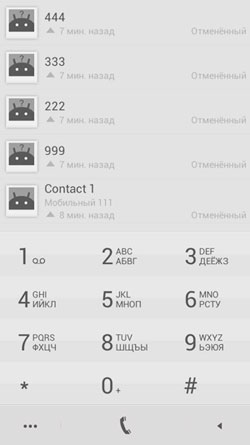 Apk Creative's Clean Theme for ExDialer
I was banging my head against the wall the other day because the dialer on my aging Motorola Photon 4G stopped working. The phone has been a bit flaky recently.
Normally what I'd do — and recommend doing — is upgrade the OS to a later version while at the same time doing a hard reset on the device. However, you need an unlocked bootloader to do that, and Motorola — in its infinite wisdom, and for a reason known only to itself — has locked the bootloader on that model. It will forever be Gingerbread.
So, what I did was a plain old factory reset, which didn't fix the issue.
After some thought, a bit of new-device coveting and ultimately a perusal of the Google Play app store, I came across add-on dialers — loads of them, hidden away. Not only did I find dialers, but I also found what looks like a subculture of dialer customizers: Third parties are creating skins for ExDialer, the main player in this arena.
A Simple, Clean UI
I was amazed — I had had no idea such wonders existed. I jumped in, and — Motorola, ha, I don't need you! — it worked. The new dialer fixed the failure. The skins I chose are nicer-looking, faster and overall significantly better than Motorola's murky teal dialer.
Modoohut's ExDialer app and accompanying Pro key look great. The app has a simple, clean UI that's a joy to use compared with stock dialers.
In addition to the clean-looking UI, interface features include an effective set of swipes, including swiping a contact label left to send a text and right to call.
A long press of the contact pulls up a list of possible functions, such as calling with Skype, SMS or wireless network; sharing a contact; attaching to an existing contact; and so on.
Multiple VoIP calling operators are included, so if you use apps including Skype, Viber, Fring, MobileVOIP, GrooVe IP, Acrobits Softphone or Media5-fone, they integrate.
Language support is strong. I counted more than 30 available.
A few things to watch out for: The developer has added a caveat to his Play store page noting that his app may not make emergency calls. He suggests testing calling emergency services before using his app.
I don't think that's a very good idea, and would be concerned emergency services might think I'm wasting valuable resources. So, I didn't test it, and have no idea how anyone would go about testing it without conceivably incurring the wrath of the local fire chief. This is an unanswered question.
The second issue is that the app for KitKat, Android's latest incarnation, appears not to be fully developed — there are some missing features, according to Play reviews. The developer needs to get on the case.
The Fun Is the Skins
Enough of the drag, though, and onto the fun. The fun is the skins. They range from free to $3 in the Google Play store.
I went a bit crazy and bought a bunch of them. The most expensive I bought was the $2 ExDialer Blue Neon Theme from developer Beserk. I found it a bit garish with its blue LED effect reminiscent of an old Razr feature phone. In any case, I have enough blue LEDs around my desk, thank you, Beserk.
I moved on to the stunning i7 Light skin from developer Mora at $1. The bright white panels feature sublimely round dialing buttons with vibrant green supplemental buttons — resembling closely recent iPhone dialers — and ooze modern graphic design.
Luklek's ExDialer 7, at $1.99, is similar. I also tried Mora's i7 in black, with deep blacks.
Minimalists will like Apk's Clean Theme with pure whites and grays at $1.30.
I did find that some skins needed settings adjustments on the phone to render properly, but you takes your choice, as they say. As we know, beauty is in the eye of the beholder. There are a lot of looks to choose from here, including wood paneling and leather, KitKat theme replication and more.