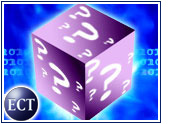 Active Decisions, a San Mateo, California-based vendor, is in the vanguard of a fledgling CRM niche: guided selling. "What we do is help corporations effectively engage their customers by understanding what the customers want from a preference and product standpoint. [We] figure out which products and services are appropriate for the consumer and then sell them that product or service," president and CEO Jeffrey Dunn told CRM Buyer Magazine.
The software and hosted products — which face either a customer in a self-service application, such as a kiosk or Web site, or a contact center service or field service rep — are designed to emulate an empathetic salesperson. Dunn cited the example of a financial services company that is selling various mutual funds, such as Charles Schwab, which in fact is both an Active Decisions client and investor.
"The process might start out by asking about a consumer's tolerance for high risk or a certain fee structure," Dunn said. "It might explain the benefits of a fee structure if the consumer doesn't understand all the nuances. It might ask about the consumer's desire for a Morningstar rating — all of the questions, in short, that a good salesperson would ask."
Always a Selection
According to Dunn, it is at this point that Active Decisions diverges from many of its competitors — a group that includes product configurators, in-house application developers and other best-of-breed vendors.
"Our software always suggests the best possible product, given the consumer's preferences," Dunn maintains. Other similar applications are often based on "elimination" technology, in which the consumer rules out categories of products based on his or her preferences. "It's very rudimentary and very frustrating for the user," he said.
"I visited the Web site of one financial institution recently and went through it six times to pick an appropriate mutual fund and didn't get a match any of the times," said Dunn. "What makes our product so effective is that it gives a recommendation 100 percent of the time."
Underlying Tech
Dunn explained that Active Decisions is able to offer a suggestion for each query because of its technology, which is based on conjoint analysis research originally undertaken at Stanford, MIT and Santa Clara University, as well as on algorithms developed by Active Decisions.
Its natural-language generator explains the customer's options in plain English, describing the choices and the underlying reasoning. "We really try to engage the consumer during this process," Dunn said.
Vertical Strategy
To be sure, there are a handful of best-of-breed and suite vendors that offer guided selling, or interactive selling, as it is sometimes called. Selectica is one example; another is VacationCoach, which offers guided selling products for the travel industry. Oracle Configurator is a guided-selling module in the Oracle E-Business Suite.
To differentiate itself and expand into new markets, Active Decisions is moving into verticals. The company plans to offer industry-specific applications in telecom, healthcare and travel in addition to its current offerings in retail and financial services, according to Dunn. It also is getting set to launch localized versions of its software for international markets.
"Active Decisions has created a strong product strategy to guided selling in chosen core verticals," AMR Research senior analyst Louis Columbus told CRM Buyer. He noted that Active Decisions' expertise in J2EE (Java 2 Enterprise Edition) and XML (extensible markup language) development "shows potential for propelling their guided-selling applications into other verticals as well."
Marquee Customers
Active Decisions has racked up some big-name customer wins recently — for example, the installation of 50 kiosks in The Wiz, a retail chain that sells consumer electronics and music. Other customers include Radio Shack, Palm, Purina and the aforementioned Schwab.
The first application Schwab commissioned from Active Decisions was an e-mail alert project that proved very successful, Dunn said. "We are now working on other applications for them."
Perhaps an even greater indication of its satisfaction is Schwab's investment in the company, he added. In July, Active Decisions announced closure of US$13.1 million in Series D financing, a round that was led by Liberty Partners and included investments from Charles Schwab, as well as from existing investors Aspen Ventures, Red Rock Ventures, Novus Ventures, InRoads Capital Partners and The Entrepreneurs Fund.