Well March has arrived here in the Linux blogosphere and with it, widespread hopes for the rebirth and renewal of spring.
Linux Girl wishes she could say things have been calm and tranquil over the past few days, but of course they haven't — this is the Linux community we're talking about, after all.
There have been many trials and tribulations for Linux fans recently, as is pretty much the norm, but surely the one weighing heaviest on Linux Girl's mind is the fate of Linux Advocates, a fledgling site that may be compared to the springtime chick of the Linux news world.
'Candid and Unbiased'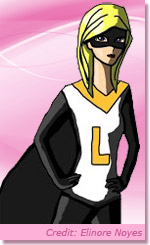 Founded just about a month ago by lifelong Linux advocate Dietrich Schmitz (with some help, it should be said, from Linux Girl), Linux Advocates is a young startup here in the Linux blogosphere that's designed to operate as a nonprofit. Original reporting and quality writing from community insiders are part of what it promises, as is a dedication to interpreting the news from a Linux perspective.
"Whereas most Linux sites seem to either regurgitate Linux stories from elsewhere or walk a fine line in terms of corporate advertisers and 'partnerships,' Linux Advocates will, by virtue of being a nonprofit and maintaining an independent status, be unencumbered to provide candid, unbiased, accurate and meaningful information from a Linux perspective," the site explains.
To keep itself going — not to mention Schmitz himself, who has been left unemployed for over a year by the current economic mess — Linux Advocates is now in the midst of a crowdfunding campaign.
Unfortunately, things are getting urgent.
'This Site Will Go Offline'
"I am happy to report that we had a banner start-up month recording 19,323 pageviews for February, 2013," wrote Schmitz in a post on Friday. "For a first month, I'd say that is a general measure of success.
"However, this site cannot continue unless we reach our funding campaign goal," he added. "In fact, if I cannot reach that goal, this site will go offline, I shall deplete all personal funds, file for welfare, and declare bankruptcy."
An Indiegogo campaign is now under way to help this Linux advocate keep himself — and this promising young news site — afloat.
'Your Arguments Are Crap'
Of course, there are virtually countless ways to advocate for Linux, whether you're a passionate blogger like Schmitz or the father of Linux himself.
Speaking of the latter, Linus Torvalds drew considerable attention last week for his own attempts to protect the free and open source operating system.
"Stop arguing about what MS wants," Torvalds exclaimed in a heated debate on the Linux kernel developers mailing list. "We do not care. We care about the *user*.
"You are continually missing the whole point of security, and then you make some idiotic arguments about what MS wants you to do," Torvalds added.
"It's irrelevant," he said. "The only thing that matters is what our *users* want us to do, and protecting *their* rights. As long as you seem to treat this as some kind of 'let's please MS, not our users' issue, all your arguments are going to be crap."
The 'Secure Boot' Saga
The topic of discussion, of course, was none other than the ongoing Secure Boot saga — specifically, a request from Red Hat developer David Howells to extend Linux support for Secure Boot to the Linux kernel itself.
That, it appears, is not going to happen at the kernel level as long as Torvalds has anything to say about it.
Meanwhile, from PCWorld to Slashdot and beyond, there's been virtually no limit to what others have had to say about it as well.
'Simply Not of Any Interest'
"I agree with everything Linus said, and with the way he said it, which I believe I need not belabor even though it would bring me joy," Hyperlogos blogger Martin Espinoza told Linux Girl, for example.
"Microsoft's private assurances are simply not of any interest to anyone, nor should they be," Espinoza added. "Indeed, Microsoft has a history of only keeping promises to which it is held most forcefully, and acting literally criminally whenever it suits them, and it suits them often.
"Anyone who trusts Microsoft at this stage is worse than a fool, he is an idiot by the very definition of the word down to its Greek etymology," Espinoza concluded.
'Sheer Nonsense'
"The idea of making Linux dependent on M$ is sheer nonsense," agreed blogger Robert Pogson. "Red Hat should be suing M$ for anti-competitive actions rather than signing on with the program.
"Where is the US DoJ when they are needed?" Pogson wondered. "If 'secure boot' is to be a global standard, M$ should not be controlling it."
In short, "it's a good thing Linus is awake," he concluded. "I worry what would happen should Linus be hit by a bus. Will Greg and the guys be too polite to shoot down such outrageous ideas?"
'Just Take Away the Power Button'
Indeed, "of course Torvalds is completely correct," Linux Rants blogger Mike Stone concurred.
"None of this Secure Boot garbage belongs anywhere near the kernel — it doesn't even belong anywhere," Stone explained. "It's Microsoft's attempt to make their Swiss Cheese OS more secure by taking capabilities away from the end user.
"Here Microsoft, let me help you out: Just take away the power button," he offered. "A computer that can't be turned on is the most secure computer in the world, and it never needs to be upgraded!"
In all seriousness, though, "we should be petitioning the Justice Department to investigate Microsoft for anti-competitive practices, not bend over backwards to work around the obstacles they're putting in the way of their competition," Stone concluded.
'Too Big a Concession'
"The disrespect for the consumer is amazing," Google+ Alessandro Ebersol agreed. "I wonder how this UEFI locked boot didn't get Microsoft on the anti-trust prosecution's crosshairs…"
Similarly, "I side with Linus," agreed Slashdot blogger yagu. "There's no reason to 'pollute' the Linux kernel with things Microsoft-pandering.
"I hate that Microsoft has so much power in the Trusted Computing debates and how that plays out in new hardware," yagu told Linux Girl, "but there are ways to work with that in Linux without incorporating it into the kernel."
The kernel "should be about being an OS," he opined. "It's a fine distinction what constitutes 'OS' — always has been — but in my opinion, extending or modifying the Linux kernel to Microsoft's whims is too big a concession."
And again: "Linus is right," said Google+ Gonzalo Velasco C. "There is no point in butchering Linux for the sake of Microsoft's badly designed secure boot system."
'An End-Run Around My Freedom'
Google+ blogger Kevin O'Brien saw it similarly.
"Linus will never win the Miss Congeniality award, for sure," O'Brien said. "But this is the kind of issue worth a lot of debate. I don't want Microsoft to be in a position to control Linux in any way, and Secure Boot as implemented by them looks like an end-run around my freedom."
So, "I look at this argument through the lens of, 'Who is trying to protect my freedom here?'" he concluded. "I think Linux is doing this more than Garrett."
Besides, "deciding what should be included in the mainline Linux kernel is not a democratic issue," Robin Lim, a lawyer and blogger on Mobile Raptor, pointed out. "Red Hat should just integrate support for Secure Boot in their own version of the Linux kernel or find some other work around."
'Vote With Your Wallet'
Slashdot blogger hairyfeet, however, had a different take.
"If Torvalds wants to give away HIS labor? Fine and dandy, but what right does he have to force others to give away theirs?" hairyfeet asked. "There is a reason for Secure Boot, you know — just go to the pirate bay and look up 'Win 7 all versions pre-activated,' which uses a hacked bootloader to completely defeat WGA and any other attempts at stopping piracy.
"Whether Mr. Torvalds wants to accept it or not, piracy is now a billion dollar business," hairyfeet pointed out.
"It's not like Linux users don't have choices," he added. "Now is the time to stop whining and vote with their wallets. AMD has moved to Coreboot, which is FOSS, and opened up their hardware, so if you care about having a FOSS system, there is your answer — and of course there are also ARM systems in any form factor you can name."
Bottom line? "Time to stop acting like a spoiled brat, Mr. Torvalds, and vote with your wallet like us mere mortals do," hairyfeet concluded.