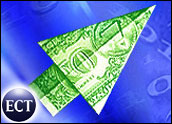 Ashford.com (Nasdaq: ASFD) was up 0.093 at 0.562 in early trading Friday, a20 percent gain, after the luxury goods e-tailer announced a renewedalliance with Amazon.com (Nasdaq: AMZN).
Ashford said it will continue to offer Amazon's more than 25 millioncustomers a range of goods through the end of 2001. Ashford said it will payAmazon cash in exchange for "targeted outreach."
"Our marketing efforts with Amazon.com have become increasingly efficientover the last year, and we believe they will continue to do so in the comingyear," said Ashford chief executive officer Kenny Kurtzman.
The announcement is the second to lift Ashford shares in as many days. OnWednesday, Ashford rose 0.06 to 0.47 after the company said it will acquireGuild.com, an online art seller, in exchange for 8.7 million Ashford shares.
"The combination of Guild.com and Ashford will create a host of marketingand operating synergies as well as providing additional liquidity until thecombined entity achieves its anticipated profitability next holiday season,"Kurtzman said.
Ashford said the acquisition will add to profits by bringing $11.5 millionin cash and a 100 percent gross margin business with no inventory and nodebt. "The deal improves every financial metric for the combined entity,including revenue, margin, earnings per share and cash," Ashford said.
The company said it expects the deal to add to earnings within six months.
Ashford, based in Houston, Texas, sells high-end merchandise such asdiamonds, jewelry and fragrances over the Internet.