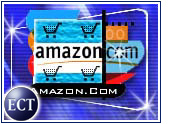 Amazon.com (Nasdaq: AMZN) was down 19 cents at $14.25 after Prudential Securities downgraded the stock to sell and slashed its price target to $9 from $20.
Prudential analyst Mark Rowen said that "anemic growth" in the e-tailer's book/music/video segment — the company's only profitable division — makes the stock overvalued. Amazon's "market capitalization is overextended, and poses further downside risk to investors," Rowen wrote in a research note.
For investors, "the risk outweighs the upside potential," Rowen commented.
Amazon's fourth-quarter performance was "not terrible in a slow economy," wrote Rowen. However, the 11 percent year-over-year growth rate in the core book/music/video division was "extremely disappointing," the analyst wrote.
Earlier this month, a research note issued by a Lehman Brothers analyst questioning the financial stability of Amazon.com drew a sharp retort from the Seattle, Washington-based e-tailer.
Lehman Brothers vice president of convertibles strategy Ravi Suria wrote Amazon's "low levels of working capital could trigger a creditor squeeze in the second half of the year, creating considerable downside risk to revenue and cash estimates for the second half."
News that the U.S. Court of Appeals in Washington, D.C. had sided with rival online bookseller Barnesandnoble.com (Nasdaq: BNBN) in a dispute over the bookseller's use of one-click shopping technology did not help Amazon. Barnesandnoble.com, meanwhile, was unchanged at $1.75.
Amazon shares have taken a beating lately, trading down 87 percent from their all-time high of $113. Rowen, however, said a "reasonable value" for the shares is "south of $10, per share, perhaps as low as $8."
Amazon reported an operating loss of 25 cents per share for the fourth quarter ended December 31st, as sales rose 44 percent from a year earlier to $972 million.
The company recently announced plans to lay off 1,300 workers, or 15 percent of the total staff, as it closes a distribution center in Georgia and a customer service center in Washington.
Amazon has said that it expects to report an operating profit by the end of this year.