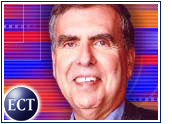 AOL Time Warner (NYSE: AOL) rose US$4.03 to$53.80 Friday after the newly merged company said it will buy back up to$5 billion of stock and sell $10 billion in additional securities.
Reports that Morgan Stanley Dean Witter analyst Mary Meeker began coverageof the stock with a strong buy recommendation and a 12-month price target of$75 also provided a boost.
Directors, at their first meeting, approved the buyback and securities saleto underscore the board's belief "in the underlying value of the companyand its potential business opportunities moving forward," AOL Time Warnersaid.
The stock repurchase program will begin in February and continue over thenext two years.
"We said we would hit the ground running, and that is exactly what we aredoing," said chief executive officer Gerald M. Levin. "We have a clear roadmap for creating dynamic value for our shareholders, and the stockrepurchase program we are announcing today is part of our commitment toimproving the return on our invested capital."
Levin added: "Thanks to the strong growth prospects for our company, we're able not onlyto continue to invest in our world-class businesses, but to use a portion of our growing financial capacity to buy back stock at a time when we believeour shares are undervalued."
AOL said it will also file with the U.S. Securities and Exchange Commission (SEC) a plan to sell $10 billion in debt, common stock, series common stock,preferred stock and warrants to purchase debt and equity securities.Proceeds from the sales will be used for investments, capital expenditures,repayment of debt and financing acquisitions, among other things.