Apple CEO Tim Cook on Monday met with executives fromDidi Chuxing, just days after the company announced that it had received a US$1 billion investment from Apple.
After arriving in Beijing, Cook tweeted out photos of himself taking a taxi with Jean Liu, the president of Didi Chuxing, and of her showing him the mobile app.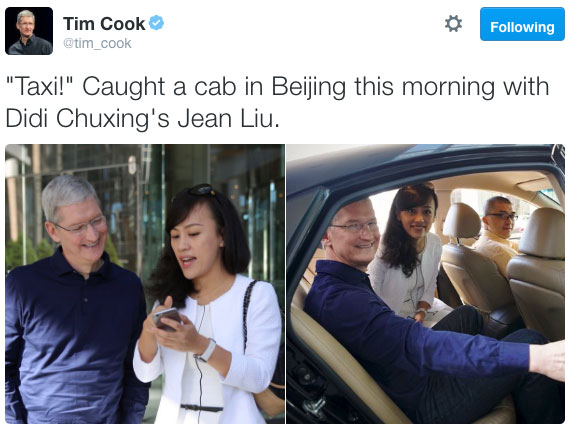 Apple hosted a panel of iOS developers at the Apple Store in Beijing, which included the founders of e-commerce companies Toutiao, Tap4Fun, Meituan Dianping and DayDay Cook, according to Didi Chuxing spokesperson Hillary DeBruin.
Apple and the App Store are the "role model of the entire tech world" and the "grassroots platform for aspiring innovators," said Liu, who moderated a panel at the event.
"Tim has previously described Apple as the best collaborator in the world," she said. "The success of Chinese iOS collaborators is living proof of the power of such collaboration."
Cook was proud of the investment his company made in Didi Chuxing, he noted.
Apple's Intentions
Didi Chuxing last week announced that Apple had become a strategic advisor for the company, joining Tencent, Alibaba and other supporters to further the company's goal of building a data-driven ride sharing platform to serve hundreds of millions of Chinese customers.
Apple's investment, one of the biggest outside investments in its history, could help it leverage a critical emerging market for the company and a controversial one. Apple has butted heads with the Chinese government over censorship, encryption and cooperation on national security issues.
The Chinese government also reportedly was behind theshutdown of Apple's video and book library earlier this year after announcing a crackdown on foreign media and entertainment companies that do business there.
Autos and More
Apple reportedly is working at using the ride sharing service as a way to leverage its development plans for self-driving electric cars and might even consider China a new development site for these type of vehicles.
"Everyone's trying to learn their lessons right now, trying things out, seeing what works," Jeremy Carlson, senior analyst for autonomous driving at IHS, told the E-Commerce Times.
"But more importantly, I feel Apple made this investment to also expand their opportunities into new technology areas and new markets," Gartner vice president Brian Blau said.
While Apple is working multiple levers of influence, it is a bid to better understand the Chinese landscape, where new players have emerged to challenge its dominance of the mobile technology market, he told the E-Commerce Times.
Future Expansion Goals
Didi Chuxing is the evolution of two separate companies — Didi Dache and Kuaidi Dache — both of which started out in 2012 as apps used to hail taxi cabs. The companies evolved to include private car hailing.
They merged last year and became the dominant ride sharing service in the country.
Didi completes more than 11 million rides a day on its platform, serving nearly 300 million customers in 400 Chinese cities. It works with more than 14 million Chinese drivers and car owners, holding an 87 percent market share in private-car hailing and 99 percent of the taxi hailing business there, the company said, citing a report by the China National Network Information Center.
Its goal is to expand its ride-sharing service to serve 30 million passengers a day and 10 million drivers by 2018.
The company is the biggest rival to Uber, which earlier this year revealed that it waslosing $1 billion a year because of competition there.