What's an iPhone Like You Doing in a Place Like This?
MacNewsWorld
Wow! Who knew summer and the new iPhone would arrive so quickly? Apparently a next-generation iPhone was found on the floor of a California bar, the phone itself camouflaged by a special case fashioned to make the hottest gadget under wraps look like a run-of-the-mill iPhone 3G.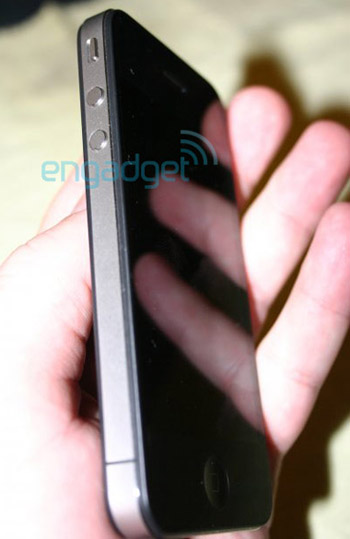 Photo of a supposed fourth-generation iPhone, originally posted by
Engadget
Sounds implausible, yes?
Not so fast. While Apple may be the most secretive consumer tech company ever spawned, mounting evidence points to legitimacy.
Over the weekend, gadget site Engadget posted a photo of what appears to be the next generation iPhone, which was quickly followed up by Gizmodo, which claimed to have had the new iPhone in hand for a week, during which they held it, pushed buttons, watched its operating system briefly run -- before it was apparently remotely wiped. Perhaps they may even have caressed it before prying it open.
So what's it look like? It's got an unmistakable iPhone look, minus the metal bezel and curved back. It's slightly thinner with edge-to-edge glass, the familiar round single button remains on the front bottom face, and the back appears to be made out of some sort of glass or ceramic-type material, apparently in an effort to improve signal reception and transmission.
You'll want to check out the short Gizmodo-posted YouTube video.
Nice, huh?
More Than Hot Water
If this unit was indeed lost inside of a bar, I'm guessing there's a high-level Apple employee who is in far more than hot water with Apple CEO Steve Jobs ... in fact, I wouldn't be surprised to learn about a freak accident coming from the Apple Cupertino campus in the next few days in which at least one person does not walk away. At best, I'm guessing severance-check hush money and a pair of busted knee-caps. Unless, of course, this apparent new iPhone is only a decoy?
I don't think it is. There's very little Apple can gain from a decoy iPhone. I'm sure the leaders at Apple believe so much in their design, they simply can't imagine anything that isn't loved by the masses and adored by fanboys. And they have a damn fine track record. Is Apple manipulating the press? Trying to get some free mindshare before going public with it in June? Doubtful. No way Jobs would let a new product appear before he had the chance to unveil it personally.
So What Happened?
Gizmodo's claim is that it was lost in a bar. Apple watcher John Gruber of Daring Fireball fame says he made some calls, and it's his understanding that Apple considers the device stolen. To add a bit of industrial espionage to the story -- or at least, tabloid journalism -- Gizmodo may have paid for it.
No doubt, to milk this story for all it's worth, Gizmodo will likely give us some juicy details just as the Web site hits start to taper off. I'm hoping some Apple employee didn't resort to using a new iPhone to pick up chicks, but maybe that's what happened, and instead of enjoying the night, some guy's new lady friend(s) robbed him. Or maybe some true geek noticed the astounding new resolution on the display as the Apple employee answered a call, then accidentally tripped him, snatching up the new iPhone off the floor and high-tailing it out of there. Or maybe the prototype iPhone simply had a signal where other iPhones had none.
Meanwhile, Beauty Is Only Skin Deep
While a new external design is enough of an excuse for many iPhone owners to pony up for new AT&T contracts, I've been expecting a few worthwhile new features. Gizmodo's photos and week-long study have led it to claim that the new iPhone will sport a front-facing video chat camera, a much-improved backside camera, a camera flash, and an improved higher-resolution display.
All of these new features are hardly surprising; in fact, it would be surprising if Apple somehow didn't add this set to a new iPhone. Still, I find it heartening to hear that we may see some real hardware improvements come this new iPhone season.
There's more, though. Instead of the rocker switch for volume control on the side, the new device has two buttons -- perhaps so that the camera mode will let users press a real, physical button to take photos. If true, this would be a welcome addition.
The other changes are less noticeable, such as what may be a secondary mic for noise cancellation purposes, a slightly larger battery, and smaller internal components packed neatly into place.
Right now, for me, this is enough to whet my appetite. My other big hope? That the new iPhone will boast much-improved call quality and volume. If only the Gizmodo guys had been able to use it!

---
MacNewsWorld columnist
Chris Maxcer
has been writing about the tech industry since the birth of the email newsletter, and he still remembers the clacking Mac keyboards from high school -- Apple's seed-planting strategy at work. While he enjoys elegant gear and sublime tech, there's something to be said for turning it all off -- or most of it -- to go outside. To catch him, take a "firstnamelastname" guess at Gmail.com.