Well we've had a few weeks of fun here in the Linux blogosphere with one of our favorite pastimes — dissecting Linux poll results — but last week brought those inwardly focused musings to an abrupt end.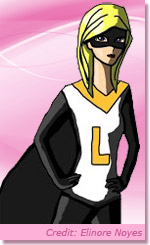 The cause? Yet another news flash from the outside world, of course, originating this time from the neighboring Apple territories.
The conversation was in full swing down at the blogosphere's Punchy Penguin when a turtleneck-clad stranger burst through the saloon's swinging doors. All heads turned, and a hush fell over the normally rowdy crowd.
The coiffed hair, stylish demeanor and callous-free fingers gave the stranger away as a resident of the walled garden, but his journey had clearly been hard and fast. "Free!" was the only word he could utter before collapsing at the bar.
Free as in Beer
More than a few Tequila Tux cocktails later, the stranger was chatting up a storm and Linux fans got the shock of their lives. "Free," it turned out, referred to Apple's new operating system. Not free as in free speech, of course — but free as in beer nonetheless.
Stunned disbelief was soon replaced by an uproar the likes of which hasn't been heard in the blogosphere for quite some time. The din only got louder when Linus Torvalds himself weighed in.
Linux Girl whipped out her Quick Quotes Quill and took down as much as she could.
'The Kill Thirsty Pill'
"First, let me laugh: Hahahahahahahaha," began Google+ blogger Alessandro Ebersol. "Yeah right, the software is free, but one has to buy a $2K or $3K hardware to run the software.
"Reminds me of that joke, of the inventor of the 'kill thirsty pill,'" Ebersol told Linux Girl. "One just has to take the pill with three glasses full of water, and, voil, no thirsty anymore. Ludicrous."
In short, "it's more of a desperation move," Ebersol concluded. "Windows 8 is not getting traction, Mac OS X is also lagging behind, and, advancing in a slow, but solid pace are Chrome OS, Chromebooks and Android, which have a different kind of revenue. So Apple is adapting to this new scenario — nothing more nor less."
'Apple Fans Shouldn't Be Excited'
"I would like to congratulate Mac users on their OS finally costing what it's worth," quipped Linux Rants blogger Mike Stone. "I'm sure it won't be long before Apple will have invented (or should I say, 'innovated') the price point.
"OK, I'm kind of joking there, but only kind of," Stone admitted. "Even Windows isn't charging for these incremental updates that basically come down to Service Packs. Apple fans shouldn't be excited that this upgrade is free, they should be upset that previous ones weren't."
As for the impact of the news on Linux, Stone agreed with Torvalds, he said: "This will have zero impact on Linux."
After all, "Linux is both free and open, and you can get a full-blown, modern version of one of the most powerful operating systems on the planet at zero cost without having to have made a prior purchase," he explained. "On top of that, you can run it on the hardware that you choose and not be restricted to hardware that Apple approves of (i.e., their own)."
In short, "the only thing shocking about this particular development is that Apple actually passed on an opportunity to gouge their loyal fan base," Stone concluded.
'Hardly Groundbreaking'
"I cannot imagine that this has any significance at all for Linux," Google+ blogger Kevin O'Brien agreed. "Does anyone imagine that price sensitivity is involved with buying Apple products?
"They previously were selling OS upgrades for all of $19.99, so the change is not much," O'Brien added, "and you can only run it on their over-priced hardware. IF this is aimed at anyone it is Microsoft."
Indeed, "I really don't see how this changes much since the OS upgrade was pretty cheap to begin with," said consultant and Slashdot blogger Gerhard Mack. "With this you save a few dollars each time Apple comes out with an upgrade, and you are still only supposed to use it on Apple hardware.
"Hardly groundbreaking," Mack concluded.
"Free to existing OS X users doesn't mean free, does it?" noted Hyperlogos blogger Martin Espinoza. "Wake me up when OS X is free to hackintosh users."
A 'Free Price/Not Free Gift'
It's clear that "Apple is not growing much," Google+ blogger Gonzalo Velasco C. suggested. "Android-Linux dominates the smartphones and new OSes are coming."
On the desktop, "Macs were a good way out from the crappy other proprietary OS, especially when prices went down due to the transition to an Intel CPU," he added, "but that joy is over, I guess, because GNU/Linux and branded brother Chrome OS keep growing, earning attention and respect from home, corporate and governmental users."
So, "it is no surprise Apple has to do something to call the attention of the users and get some new ones," he concluded. "I don't think they are going to steal Linux's thunder. Let their own users enjoy this free price/not free software gift."
'Linus Is Correct'
Google+ blogger Brett Legree owns a MacBook Pro and runs OS X on it, so "I am happy to hear the news — not that $20 for the last upgrade was really that bad, mind you," he told Linux Girl.
However, "it doesn't really impact Linux-based operating systems much, as far as I am concerned — they do not really operate in the same spaces, for the most part," he opined. "OS X has a place for certain kinds of people and uses, and GNU/Linux for other types of people and uses.
"I have seen them side-by-side in various places, with Apple machines being used for tasks like graphical design, and the GNU/Linux workstations and servers being used for the heavy lifting," Legree explained. "Each excels at certain things that the other cannot do as effectively."
So, "free updates to OS X are a good thing for people who use it, but Linus is correct — it is no threat to Linux," Legree concluded.
'No Threat to GNU/Linux'
Last but not least, blogger Robert Pogson took a similar view.
"Selling OS X for $0 to owners of Apple's hardware does not affect the owners of 94 percent of PC hardware," Pogson pointed out. "They still don't license the software to run on hardware not sold by Apple.
"That's OK by me," he added. "As long as they don't open the source code and distribute under a Free Software license, they will be no threat to GNU/Linux."
However, "Apple is threatening M$," Pogson suggested. Nothing prevents Apple from lowering the price of their hardware and taking more share from M$."
'Just a Bad Memory'
Meanwhile, "M$ is a bigger threat to GNU/Linux because they actively seek to sabotage it every chance they get," he added.
Looking ahead, "the long-term success of any legitimate business depends on having the interests of customers at heart," Pogson said. "Neither Apple nor M$ do that. Apple and M$ both try to stifle competition by means legal and illegal with no end of FUD. Both try to lock in users by skirting reasonable standards, making switching more difficult than necessary."
That, in turn, is "enslavement of users, something detestable," Pogson conclude. "Thank Goodness for GNU/Linux and other FLOSS which does everything to empower users. Consumers are seeing FLOSS on retail shelves and in the hands of other consumers. Nothing Apple nor M$ do can undo that, so I am optimistic that their business practices will one day be just a bad memory."