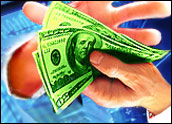 The high-profile financial crimes at companies like WorldCom and Enron might lead some to wonder whether high-tech companies are magnets for fraud.
But Andrew Bartels, a Giga Information Group analyst, told the E-Commerce Times that the industry does not have a genetic defect that makes it more prone to fraud. "It is not fair to single out tech or telecom," he said.
However, Bertels noted, the industry is "awash in conditions that make [committing fraud] so tempting that it is hard to resist."
Taking Stock
Tech companies have tended to "use stock options as compensation more liberally" than other types of companies, Yankee Group analyst Rob Perry told the E-Commerce Times. Notably, a common denominator among companies that have strayed from the straight and narrow is that they have routinely issued stock options to augment executive salaries.
At the peak of the dot-com boom, companies were aggressively pushing stock options, oil changes, dog walks and housekeeping services as part of handsome compensation packages. Those who took a risk by taking a high-tech job often became millionaires almost overnight when their companies went public.
While behemoths like Enron are getting most of the negative press these days, conditions favorable for fraud can also exist at smaller companies. Bartels noted that several small companies, such as MicroStrategy, have had to restate earnings.
The Fast Lane
With stock options firmly in hand, executives in the dot-com heyday often sacrificed all else for performance — or at least the semblance of performance.
"The value of stock options is the value of the stock," said Bartels. "Executives with high stock options have a propensity to look and see how to maximize options."
In effect, executives were paid based on stock performance, Perry noted. Stock option ownership, coupled with a booming economy — and the chance to drive stocks up to wild heights — put management on a collision course with temptation. And that was particularly true in the high-tech sector, which saw the sharpest growth of all.
Technology companies were in an "incredible push toward growth and stock price and meeting expectations," said Perry, adding that in such an environment, there are more opportunities, particularly in the software and services industry, to engage in creative accounting.
Creative Accounting
"There are a lot of [different ways] to recognize revenue," Perry said, pointing out that companies sometimes would count units shipped to warehouses — not to actual customers — as revenue.
Perhaps even more disturbing, and arguably more detrimental, is the apparent complicity of accounting firms in the fraud that took place. While accounting firms are supposed to monitor zealous executives and keep creative bookkeeping in check, the biggest cases of fraud that have emerged might have been prevented if accounting firms had not looked the other way.
"Companies are going to push envelopes, but there are others who are supposed to tell them they're going too far," Yankee Group analyst Michael Goodman told the E-Commerce Times.
"[Accountants] are supposed to hold the line," Goodman added. "Instead, there is no one playing that role right now."