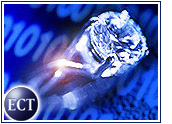 Cost reductions and lower marketing spending helped luxury goods e-tailer Ashford.com (Nasdaq: ASFD) narrow its loss for the first quarter ended June 30th, the company said Thursday.
Sales were below year-earlier levels, however, as a promotional campaign and an inventory reduction lowered revenue. Repeat customers accounted for 33 percent of total sales, up from 26 percent in last year's first quarter.
Houston, Texas-based Ashford reported a net loss of US$14.4 million, or 28 cents per share, compared with a loss of $39.1 million, or 87 cents, in the year-earlier quarter. Latest-quarter results included restructuring and other charges of $8.4 million.
Sales for the quarter slipped to $12.1 million from $13.1 million in the same period a year earlier. A promotion with a corporate partner and the company's decision to narrow its product assortment and reduce inventory contributed to the drop, Ashford said.
Changes Taking Hold
Chief executive officer David Gow said the results "demonstrate that the changes we're implementing are improving our operating performance." A plan to cut costs and lay off workers was first announced in January.
"We have reduced headcount, eliminated inefficient marketing spend, divested unprofitable business units, and reduced our inventory commitment in unproductive products," Gow said. "As a result, our business now operates with far lower costs, is marketed more efficiently, requires less capital, and is focused on the most profitable opportunities."
The cost cuts should greatly help second-quarter results, said Gow.
"Next quarter, we will benefit from a full quarter's worth of these savings — supporting continued financial improvement," he said. "We believe we are on a good trajectory, and that the steps we are taking will build a profitable and enduring business."
Art Spinoff
Also Thursday, Ashford said it completed the divestiture of its art business, Guild.com. The spinoff is part of the company's plan to achieve a profit by the fourth quarter of this year.
Ashford will continue to receive half of the revenue from art sales generated on the Ashford.com site, and the company will retain a minority interest in Guild.
"We believe our new relationship will be a more economicway to sell Guild art to Ashford's traffic and customer base," said Gow.
Delisting Looms
Ashford, whose shares had fallen to 14 cents at the close of trading Thursday from $24 in late 1999, is in danger of being delisted from the Nasdaq if its shares continue to trade below $1.
The company said last month it would ask Nasdaq for additional time toboost the price of its stock price.
Ashford went public in September 1999 at $13 per share. The company is among several dot-coms being sued by shareholders who bought their stock at allegedly inflated levels, only to see the value of their investments plunge.