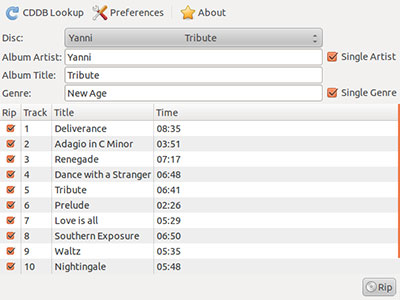 Asunder
The task of ripping files from CDs is fast becoming old hat — that is,unless you have a collection of plastic discs you want to put onto yoursmartphone or portable music player. In that case, you will find Asunder to be an indispensable tool.
Asunder is a graphical audio CD ripper and encoder for Linux. One of its best features is the ability to save tracks from an audio CD in a variety of file formats. For example, you can choose WAV, MP3, OGG, FLAC, WavPack, Musepack, AAC, and Monkey's Audio files. That gives you a good chance of matching whatever format your mobile device of choice uses.
Other neat features are its use of the CDDB, or Compact Disc Database, to name and tag each track. Also, Asunder lets you encode to multiple formats in one session. That trick I do not see in most other CD ripping apps.
Impressive Tool Set
And yes, it is a very fast tool. As much as I dislike comparing performance to the Windows OS functionality, that comparison fits Asunder quite well.
The standard for CD ripping in Microsoft Windows is the RealPlayer program. Asunder is hands-down just as fast and a lot easier to configure and use.
But Asunder goes one step further. This adds to the speed of completing each ripping session. This app can simultaneously rip and encode. And for good measure, it creates M3U playlists.
No-Sweat Installer
Asunder is a solid performer. That accolade applies from the start with the download process. It is not uncommon for Linux apps to reside outside various distros' package management systems. That requires a process involving uncompressing files and sometimes having to convert formats in order to install them.
Not so with Asunder. It is available in so many package options that getting it and installing it are nearly seamless. For example, Asunder is readily available in packages formated for the most popular Linux distros. These include Ubuntu, Debian, SuSE, Fedora, Mandriva, Slackware, Gentoo, Arch, TinyMe, ALT and FreeBSD.
I was especially pleased to find a PET package already available here for Puppy Linux. This saved me from having to dig into a terminal window to convert the standard compressed file into Puppy Linux format.
That is important for Puppy users. So many versions are in use that upgrading from one Puppy Linux release to another is not usually necessary. So users of somewhat older releases may not have the newest package manager library available.
No Overhead
Another aspect of Asunder's distribution channel is that it has little need for dependencies beyond standard Linux configurations. Chances are Asunder will install and run with what you already have.
You can check out how your system fares against this basic dependency list. Your Linux installation needs GTK 2.4 or greater, Libcddb 0.9.5 or greater and Cdparanoia.
Most Linux distros also come with the other support files that Asunder needs to run. These include LAME (optional for MP3 support), Vorbis-Tools (optional for Ogg Vorbis support), FLAC (optional for FLAC support), WavPack (optional for WavPack support), mpcenc (optional for Musepack support), neroAacEnc (optional for AAC support) and mac (optional for Monkey's Audio support).
If your configuration lacks one or more of these optional support libraries, you can still use Asunder. All you will miss is the additional file format options when you save a ripped track.
Look and Feel
One of the nice things I always liked about the Linux OS is how every program it runs does not have to look like every other Linux program. The user interface allows for a wide range of styles to fight the app boredom factor.
Asunder does not have that standard look. Instead, it uses a clean interface that is very functional. This lets you select your desired tracks from the mounted music CD, click the RIP button, and be done with it.
The majority of the display window is the track, title and playing time of the music on the CD. Asunder uses no drop-down menus. How simple is that? You have nothing to do but watch while it rips.
The top row only has a button to access the CDDB Lookup if you want to use it. A Preferences button opens a very efficient configuration panel. But you can use Asunder the first time you load it without selecting a thing. And, of course, there is the About button to check out the application's lineage.
Easy Does It
The Preferences panel gives you access to four setup categories. These are General, Filenames, Encode and Advanced. Use the General options to change the default music library location, check/uncheck the Create M3U playlist and Eject the disc when finished.
The File names panel is more an option for power users. There you can edit how files will look when displayed in the playlist and the album directory. Unless you have unique cataloging needs, I recommend just ignoring those options. The default settings work just fine.
The Encode configuration area is where most of your focus will be. It is there that you check or uncheck your formatting desires for the ripped tracks. Each option has a slide bar that lets you set the bitrate or quality or compression level, depending on the file format you select for the ripping session. I suggest keeping the Variable bit rate box checked so you get optimum sound quality. Of course, this will consume a bit more storage space.
Superior Quality
Two things impressed me beyond Asunder's speed and ease. One is its default settings. For instance, Asunder encodes in all formats if you don't tick any of the checkboxes. That works great for me. I keep all formats in my music library and then can drag and drop the ones I want on various portable devices. It saves time in having to re-rip repeatedly as I need another format.
The other trait that impresses me about Asunder is how good the ripped tracks sound. That is not always so evident with other ripping tools.
For instance, Asunder's maximum bitrate for encoding is 320kbps. The Ogg Vorbis filetype maxes out at 10. This approximates the quality of an mp3 at a 500 kbps bitrate. FLAC (Free Lossless Audio Codec) performs even better. Its maximum quality level is 8, equivalent to better than 800 kbps.
Bottom Line
Asunder is fast and efficient. It has zero learning curve and is a breeze to get and install.
Its small footprint makes it an ideal choice for a wide variety of Linux installations. Whatever ripping tool you are using now can no doubt learn a trick or two from Asunder.