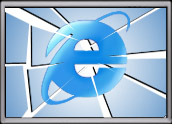 Kogan.com, an Australian online retailer, will levy a fee on those who shop at the site using Microsoft Web browser Internet Explorer 7, according to The Economic Times.
A surcharge will be added to all purchases made via Internet Explorer 7. The rationale, according to Kogan.com Chief Executive Ruslan Kogan, is to recover costs associated with what he called an "antique browser." He said that while only a small fraction of Kogan.com customers use IE7, it is nonetheless a burden on the site's IT team, which has to go out of its way to accommodate the browser.
The IE7 charge is 6.8 percent, or 0.1 percent for each month since IE7's launch. The charge will subsequently be bumped up 0.1 percent every month.
An Unflattering Documentary on Scottish Lunchroom Cuisine
Martha Payne, a nine-year-old from Scotland who had been blogging about school lunches, was forced to shut down her blog after her school instituted a no-camera policy.
But that decision didn't go down right, and has apparently been lifted.
This one is ever-evolving, but here's what has happened thus far. Payne started a blog, Never Seconds, that chronicled what tech website Gizmodo described as "the unappealing, non-nutritious lunches" served by her school.
It didn't take long for the blog to blow up. It was featured by The Telegraph, Time, The Daily Mail and more.
But on Thursday, Payne authored a post saying that she was pulled from class and told that she could no longer bring her camera to school. This, Payne said, spelled the end of the blog.
However! A Friday morning post from The Verge, written two hours after that Gizmodo post, reports that the camera ban has been lifted. There was, according to The Verge, a live announcement on BBC radio saying that the brief camera ban was no more.
Which means, apparently, that the blog is not toast.
Suspected Suicide at Foxconn Plant
A 23-year-old worker for Foxconn, the megafactory that builds various tech products including Apple hardware, committed suicide by jumping from his apartment Wednesday, according to Reuters.
The suicide, which happened near the Chinese city of Chengdu, is the first incident in months, but it has nonetheless refocused the spotlight on Foxconn's well-documented suicide problem. In 2010, Foxconn put up nets to prevent suicides — there had been 17 to that point — and earlier this month workers threatened a mass suicide. Including this week's, there are believed to have been 22 reported suicides at the company's China plants.
In February of this year, the company announced that it had raised salaries; in March, Apple and Foxconn agreed to improve working conditions for the company's 1.2 million workers.
Earlier this month, about 100 workers reportedly rioted at the Chengdu plant.
YouTube Launches Indonesia Site
YouTube on Friday launched a localized site for Indonesia, according to Tech In Asia .
YouTube, a subsidiary of Google, has already launched specialized sites in Singapore and Malaysia.
Along with having Indonesian language and an amended URL — youtube.co.id — the Indonesian YouTube has teamed up with some of the nation's largest media companies.
Indonesia is among the countries in which YouTube will be broadcasting this year's Summer Olympics.
UK Rejects Assange's Extradition Appeal
The British Supreme Court in London dismissed Wikileaks founder Julian Assange's request to reopen his appeal fighting extradition to Sweden, according to ZDNet.
Assange is wanted in Sweden over allegations of sex crimes. He will likely be sent out of Britain between June 28 and July 7, according to The Guardian.