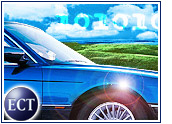 Car e-tailer Autoweb.com (Nasdaq: AWEB) moved up on the dot-com critical list Thursday with the announcement that it has hired a financial advisor to explore its options, while it fights to avoid delisting from the Nasdaq stock exchange.
Autoweb said it was notified last week that it faces delisting because it has been unable to sustain a stock price of at least US$1 for nearly four months. At midday Friday, the issue was unchanged at 38 cents.
Santa Clara, California-based Autoweb plans to challenge the delisting in a formal hearing, saying it meets all the criteria for listing on the exchange except for the minimum stock price. That hearing will take place in approximately one month.
Autoweb said it hired Credit Suisse First Boston as its financial advisor to look into its strategic options and "to maximize shareholder value."
Profits Promised
Autoweb's share price has lagged despite assurances that it would be profitable before the end of the year.
However, reaching profits is no guarantee that a stock price will revive, according to comments made by influential analyst Anthony Noto of Goldman Sachs in a research note Thursday.
Noto, who has in the past published "death watch" lists of the Internet businesses he thinks will run out of cash, wrote that he sees more companies becoming profitable by the end of the year. Even so, the analyst said that profitability does not necessarily mean that stock prices will rise.
Rocky Road
Autoweb's life as a public company started strongly with its initial public offering in March 1999. The stock shot out of the gate, opening at $21 and rising to $50.
In October 2000, however, Autoweb's stock price dipped below $1 for the first time.
Although Autoweb has backing from Terra Lycos and America Online and an alliance with Ford Motor Company, skepticism about the online auto market cooled investor interest in the company's issue.
In response to slowing sales, the firm slashed 25 percent of its workforce in December and said it would restructure to focus on "content and technology offerings, order fulfillment and customer relationship management for the automotive industry."
Burn and Crash?
At the time of the layoffs, Autoweb insisted it had enough cash to last until it reached profits. According to the company, it had $27 million on hand at the end of the fourth quarter, during which it lost $14 million, giving the dot-com only two more quarters at the same cash burn rate.
Seeing the caution flag, online car seller CarsDirect.com chose to stay out of the public markets, canceling its own IPO in December.