Avaya has made enhancements to several Avaya Healthcare Solutions products — adding tools to automate patient outreach for chronic disease management and follow-up.
Built on Avaya's workplace collaboration and patient care lines, the new products were unveiled this week at the 2011 Annual HIMSS Conference and Exhibition.
"Avaya has been selling into the healthcare space for a while," said Sanjeev Gupta, head of the Avaya Healthcare Practice.
"What we wanted to do with this these products is move deeper into applications for the sector," he told CRM Buyer.
In short, these applications sit on top of the communication and collaboration products Avaya has developed.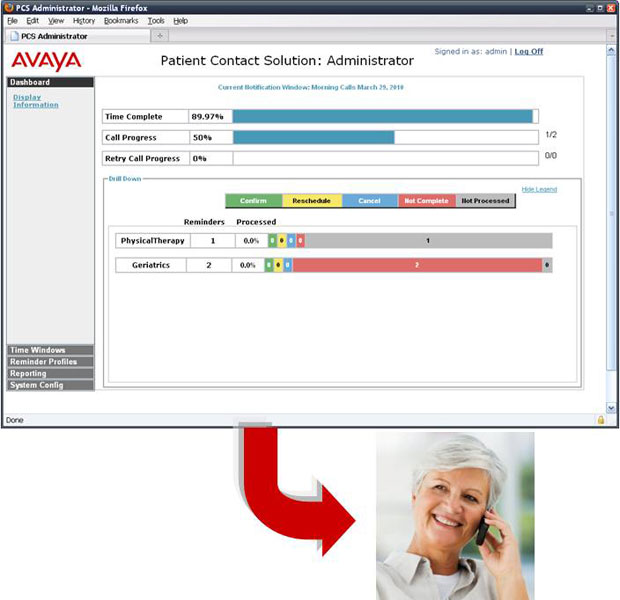 Avaya Patient Contact solution supports outreach to patients through automated speech.
A Robust Market
Both hardware and software for the healthcare IT space are expected to deliver robust returns for vendors this year, according to Gartner. In 2011, healthcare providers worldwide will spend US$87.7 billion on IT, including hardware, software, IT services and telecommunications, the research firm estimates.
The overriding theme of the new Avaya products, Gupta said, is mobility enablement and prioritized messaging, both of which allow nurses to monitor patients remotely even as they are working on other tasks.
3 New Offerings
Avaya Mobile Device Checkout 3.0: This app enables communications from anywhere on hospital grounds using a personalized wireless LAN mobile device. A hospital worker can register a shared or personal mobile device — such as a personal iPhone, for example — as a shift begins, by swiping device and ID badge barcodes.
A personal phone number is then assigned to the device, eliminating complex login procedures or the need for staff members to get a new contact number each time they come to work. Mobile Device Checkout also allows simultaneous logins to clinical applications, such as asset management.
What is different from previous versions of this product, Gupta said is that it allows nursing staff to use their own devices. General availability is March 2011.
Avaya Patient Follow-up. This is an automated outreach call and follow-up app that hospitals can use with patients after their discharge. Patients are asked customized questions via voice automation, based on their medical records and reasons for hospitalization. The system can also be tailored for acute and chronic problems.
This app was developed to prevent or cull the number of re-admittances to hospitals, said Gupta, which can be a significant problem. It will be generally available in summer 2011.
Avaya Patient Appointment Reminder. This app sets outbound calls to remind patients of upcoming appointments and confirm them, using speech automation or prompts.
It is used with the multimodal communication portal, Avaya Patient Admit Coordinator.