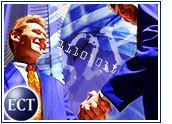 An online trading exchange backed by such aviation industry giants as American Airlines, United Airlines and British Airways announced Thursday that it will be joining forces with a similar exchange, led by major aerospace manufacturers, in a bid to trim transaction costs between airlines and their suppliers.
The venture teams MyAircraft.com — an existing site powered by Honeywell International United Technologies, BFGoodrich and software developer i2 Technologies — with the airline-led business-to-business (B2B) partnership known as AirNewco. Ariba and i2 will provide the technology to drive the exchange.
Founded in April, AirNewco's members also include Air France, Continental Airlines, Delta Air Lines, Iberia Airlines, USAir Group and United Parcel Service.
Bevy of Services
The newly-formed combined marketplace, to be named later this year, will sell maintenance, fuel, catering, cabin and airport support services. Its Internet operations will also offer online catalogs, reverse and forward auctions, inventory management tools and purchasing support.
"These services will enable both buyers and sellers to reduce transaction costs, lower inventories and realize significant supply chain savings," MyAircraft and AirNewco said in a joint statement.
Industry-Wide Exchange
Analysts say that the combined exchange, which will be open to other industry participants, should create strong business opportunities by providing a neutral exchange that taps the $500 billion (US$) aviation industry.
The participating companies said the initiative will be independently managed, noting that ownership will be shared among its 13 individual members. The venture will be headquartered in the Washington, D.C. area, and is slated to begin offering services during the first quarter of 2001.
The venture is subject to the completion of definitive agreements, and may also face competition from another manufacturer-oriented B2B marketplace launched earlier this year by Boeing, Lockheed Martin and Raytheon BAE Systems, formerly British Aerospace.
B2B Marketplaces Gaining Ground
The aviation exchange mirrors similar efforts by other industries to implement cost-cutting measures and streamline operations.
In September, the U.S. Federal Trade Commission (FTC) gave the green light to Covisint, a massive marketplace serving the automotive industry. Backed by such giants as DaimlerChrysler, GM, Ford, Renault, Nissan and systems supplier Visteon, Covisint was the first B2B exchange to be reviewed by the FTC.
The agency initially feared that the major auto manufacturers would use the exchange to impose pricing models and purchasing practices on suppliers. The automakers, however, maintained that Covisint would be open to other manufacturers and would not gouge smaller players.
The FTC approved the venture, but warned that it will watch Covisint closely as the e-marketplace develops, and reserved the right to take action if its practices trigger antitrust concerns. Many analysts view Covisint's success as a bellwether for other industries embarking on similar ventures.
Covisint will link participants with more than 30,000 suppliers, and expectations for annual transactions are as high as $300 billion. Like its aviation counterpart, the exchange expects to help reduce unwanted inventory and slash both costs and red tape.