Bantam Live principal John Rourkeremembers well one of the first glimpses the tech industry got of what was possible with real-time activity streams for the corporate environment. He was sharing the stage with a Salesforce.com executive at an industry event focusing on that subject in 2009. They weren't talking about Salesforce.com's now popular Chatter networking application, though. Rather, the center of attention was Bantam Live — a social CRM and collaboration app whose backbone is its activity feed.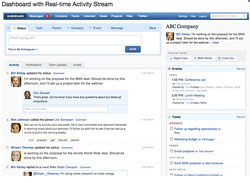 (click image to enlarge)
Salesforce.com pre-announced Chatter a few months after that event, Rourke recalled — and went to market with it a full nine months after Bantam Live did.
Not that Bantam Live views Salesforce as a competitor. For starters, Salesforce.com is more focused on the enterprise, while Bantam Live is largely an SMB play with a strong focus on social CRM, Rourke told CRM Buyer.
Two Goals
Two-year-old startup Bantam Live has articulated two overarching goals for its app: 1) to help small businesses build relationships and connect with customers, especially via social networks and the Web; and 2) to provide the internal collaboration tools to manage contacts and outreach activities.
"Folded into this and unique to Bantam Live in the CRM space is our real-time activity stream, which has been modeled after Facebook in the consumer space," Rourke said. "The activity stream links business objects — people, business apps, and data — within the application. This activity stream is a critical piece of our architecture. It shows what everyone is working on."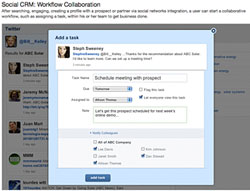 (click image to enlarge)
At the same time, the application brings formerly distinct applications into one work space. These include an internal microblog app — similar to Yammer — project and task management, file-sharing and a shared calendar.
Bantam Live also sweeps the Internet for publicly available contact information whenever a contact is added into the Bantam Live system, said Rourke. "Even if you add 5,000 contacts at one time, the system will grab all of the email addresses associated with that name from social networks or other sources."
New Twitter Client
Bantam Live recently added a full Twitter client that lets users hook into a Twitter feed, make replies and begin CRM workflows based on their exchanges.
A solar panel manufacturer, say, could use the application to check Twitter each morning for people looking for advice on solar panels in the hope of eventually converting them into sales. Replying to those tweets using a Bantam Live account would automatically create a contact record along with a workflow, in case the lead generated a sale.
"It is a great tool to pursue business opportunities," said Rourke.