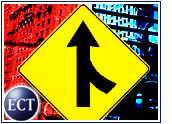 Bookselling giant Barnes & Noble, Inc. (NYSE: BKS) announced plans Wednesday to strengthen its clicks-and-mortar network by closely integrating operations with Barnesandnoble.com (Nasdaq: BNBN).
Barnes & Noble's 551 retail stores will be linked with the bn.com Web site by Internet service counters throughout the stores. Customers will be able to choose between home delivery or store pickup, and will also have the option of paying for online purchases with cash or checks instead of a credit card.
'Multi-Channel' Shopping
"We know that multi-channel customers spend more, and we see our new Internet service counters as keys to increasing sales in both the retail and online channels," said Steve Riggio, vice chairman at both Barnes & Noble companies.
"The counters, as well as the other initiatives announced today, leverage the real strength of Barnes & Noble — tens of millions of affluent, educated consumers, who are the most desirable retail demographic group in America," Riggio said. "We believe this is the most extensive and comprehensive deployment of technology in the clicks-and-mortar age."
Brick-and-Click Success
A study released last month by the National Retail Federation, J.C. Williams Group and BizRate.com found that retailers that offer merchandise through catalogs and Web sites as well as in brick-and-mortar stores tend to do more business than those relying on a single sales channel.
"Multi-channel retailers who can effectively harness the power of cross-channel integration have the opportunity to develop a significant competitive advantage over those who treat their channels as separate silos," said Jim Okamura, senior partner at J.C. Williams.
Jupiter Research analysts arrived at the same conclusion, saying in a recent report that multi-channel shoppers purchase 30 percent more than shoppers who use only one retail channel.
Online Returns
Customers will also be able to return books and CDs purchased over the Internet to Barnes & Noble stores. "The ability to return books to our stores is the No. 1 request from our Internet customers, and we are happy to oblige by making this very convenient service available at 551 retail locations," said Riggio.
Customers who return items purchased over the Web to stores will receive merchandise credit, the company said.
A consumer membership loyalty program, Readers' Advantage, will give customers a 10 percent discount at Barnes & Noble stores and a 5 percent discount on the Web site, in exchange for a $25 (US$) annual membership fee.
The program will feature other incentives and special offers, including a subscription to a monthly magazine.