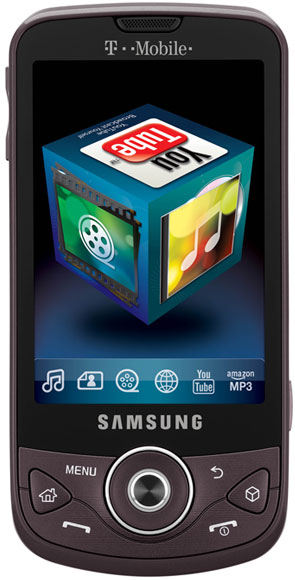 Samsung Behold II for T-Mobile
Apple's iPhone may have legions of enthusiastic followers, but there's no denying that fans of Google's competing Android platform already have more options.
Case in point: Samsung and T-Mobile on Monday announced the Samsung Behold II, the latest of many Android handsets to come to market in recent months.
"T-Mobile continues to expand our lineup of Android-powered phones in time for the holiday season with the addition of the Samsung Behold II," said Travis Warren, director of product marketing for T-Mobile USA. "The premium screen and quality camera coupled with Samsung's innovative cube menu makes the Behold II a multimedia powerhouse that's made even stronger by T-Mobile's high-speed 3G network."
3.2-Inch AMOLED Screen
The Behold II is a full touch-screen phone integrating the open Android platform with Samsung's next generation TouchWiz user interface and T-Mobile's high-speed 3G network.
It's the first handset from T-Mobile USA to feature a 3.2-inch AMOLED screen, which provides crisper colors and wider viewing angles, the companies said.
In addition, the Behold II is equipped with Samsung's TouchWiz user interface, designed to allow easy customization with widgets located in a slide-out tray on the left side of the home screen. Also enabled by the interface is one-touch access to a user's favorite and most commonly used features and applications.
Three Home Screens
The Behold II offers three different home screens that can be used to drag and drop widgets onto the screen and organize the different workspaces with favorite widgets and application shortcuts.
It has what the companies describe as an "intuitive" cube-type menu that provides access to six multimedia features: music, photos, videos, the Web, YouTube and Amazon MP3 for music downloads.
Built-in Google mobile services such as Google Search, Google Maps, Gmail, YouTube and Google Talk deep Behold II users "organized and entertained," say the companies, as do thousands of applications and games available for download from Android Market.
Visual Voicemail
The WiFi-enabled device supports personal email and corporate email with Exchange ActiveSync, as well as instant messaging and text, picture and video messaging.
Additional features include a 5-megapixel camera with autofocus, flash, five shooting modes and video capabilities; an MP3 player; up to 16 GB of external memory; assisted GPS and Bluetooth 2.1; and visual voicemail that lets users listen to voicemails in order of preference.
Building upon the success of its predecessor, the Samsung Behold, the new Behold II –Model SGH-t939 — will be available exclusively from T-Mobile. It is currently scheduled to launch before the start of the holidays.
'Best Effort Yet'
"This device offers customers many new features they will like, such as Google mobile services and Google search, Maps, Gmail, YouTube and Google Talk," telecom analyst Jeff Kagan told LinuxInsider.
"This is Google's best effort yet to enter the wireless space," he added. "It looks like each new version gets better and better."
Included in the new device are "a variety of new features that are important to different groups of customers," said Kagan, though he also made the point that it's "loaded with features making it attractive to many groups."
However, not yet included are "some very important features that are must-haves for many users," he acknowledged, such as the ability to synchronize Notes on Microsoft Outlook.
Also, users are unable to "take much information with them on their phone," he said.
Holiday Riches
The device is "one of the flurry of new phones for the holiday season," In-Stat Principal Analyst Allen Nogee told LinuxInsider.
Typically, the fourth quarter is the biggest quarter of the year, Nogee noted, and already there are so many phones "that I only get to see a small percentage of them," he said. "It also looks like it's getting tougher and tougher to tell them apart."
Naming the devices appears to be an increasing challenge, Nogee said.
"The big question: Will they use roman numerals?" he quipped. "The new Samsung/T-Mobile Behold IIVX — arriving in stores soon."
That iPhone Magic?
Android started life "with one device on one network," Kagan pointed out. "Now we are getting ready to see multiple devices on multiple networks."
Android "wants to be a player in the wireless space, and they want it now," he added.
Currently, open questions include whether the new devices will be attractive to customers, and whether they will have "some kind of edge because of the Android connection," Kagan said.
Also remaining to be seen is whether the Behold II will have "some of the magic that Apple has seen with the iPhone."
'Customers Seem to Like Them'
For now, it's still too early to tell what the answers to those questions will be.
"One thing we have seen is a degree of success with the first device," Kagan pointed out. "One thing we have not seen is a massive demand from customers."
So far, "it looks like these Android devices are getting a fair amount of media attention, and so far customers seem to like them," Kagan concluded. Still, "we have not seen anything like the iPhone craziness yet."