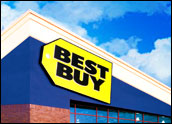 Just two days after regional consumer electronics chain Circuit City declared bankruptcy, Best Buy has slashed its earnings forecast for the upcoming holiday season and much of 2009.
The retail giant forecast fiscal 2009 earnings of about US$2.30 to $2.90 per share, down from a prior forecast of $3.25 to $3.40 per share. Best Buy now expects annual revenue of $43.7 billion to $45.5 billion, down from its earlier forecast of about $47 billion.
Best Buy, the No. 1 consumer electronics retailer in the U.S., said same-store sales fell about 7.6 percent in October after falling 1.3 percent in September. The company said same-store sales in November 2008 through February 2009 could decline by 5 percent to 15 percent, leading to an annual same-store sales decline of 1 percent to 8 percent.
Best Buy's stock was down nearly 7 percent in mid-day trading at $22.23 per share on the grim news.
Best Buy's Pain Predictable
The adjusted outlook was expected.
"It's not a big surprise that they had to lower their numbers because we knew September was soft," Daniel Binder, an equity analyst with Jefferies & Co., told the E-Commerce Times. "I think what was surprising was the range they gave of the sales and earnings guidance. It was wider than we thought."
Best Buy's announcement is just the latest in what seems to be an endless stream of bad news on Wall Street. Consumer spending is heading south, and fast.
"It just ties into the uncertainty of the current environment," Binder said. "[Best Buy is] aggressively tackling the cost structure and inventory and trying to keep it down. You're going to see margins come under pressure."
Best Buy announced its intention to take on additional credit, Binder noted.
"It primarily reflects two things," he said. "They needed to replace the portion of their credit that was provided by Lehman. And it sounds like they want to have ample liquidity not just to get through this tough period, but to make advantageous inventory buys if the opportunity presents itself."
It's possible that Best Buy is hearing that some consumer electronics vendors have become cash-constrained due to the poor economy, said Binder.
"[These vendors] might be willing to unload inventory at a discount just to bring in cash," he speculated. "That's my read on it. That could be good for Best Buy, because they could turn it around and sell it at a better margin than they might typically get."
Too Much Inventory, No Spending
Excess inventory is a chronic quandary for consumer electronics makers and retailers.
"It's the nature of the beast," Richard Hastings, consumer strategist at Global Hunter Securities, told the E-Commerce Times. "It usually resolves itself after nine months, but we'll see significant weakness on price for the next six months."
The good news is that periods of prolonged weakness tend to drive faster innovation in the sector as vendors push to get new products to consumers and businesses, he said.
"The other thing that is a positive," Hastings said, "is that prices will come down easily — and for those that have some spending capacity, buying power will increase a lot," he said. "It will be possible to get quality laptops for $299 and flat-screen TVs with prices coming down quite a bit."