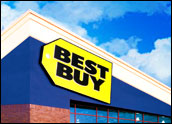 Consumer electronics giant Best Buy is the latest casualty of the recession and slowdown in consumer spending.
The Richfield, Minn.-based company reported a whopping 77 percent drop in year-over-year profit in the third quarter ended Nov. 29 and announced a plan to offer voluntary buyout packages to all of its corporate employees.
Best Buy also warned Wall Street that layoffs might be necessary down the road if the voluntary employee buyout package, instituted Monday, fails to substantially reduce costs. The company will also reduce capital spending in 2009 by 50 percent, mostly by slowing down the opening of new stores in the U.S., Canada and China.
The company's stock was up nearly 17 percent to US$27.36 per share in mid-day trading. However, that's well below Best Buy's 52-week high of $53.60 per share.
Best Buy spokesperson Kelly Groehler declined to comment.
Weak Results
Best Buy reported $52 million in earnings on $11.5 billion in revenue in the third quarter, down from $228 million in earnings on $9.9 billion in revenue during the same period in 2007.
The company said the steep drop in earnings was due to a $111 million charge related to a nearly 3 percent drop in the value of Best Buy's stake in the Carphone Warehouse Group of the United Kingdom.
However, a drop in same store sales also hurt the company. Year-over-year sales in stores that were open for at least 14 months declined by 5.3 percent in the third quarter, compared to a 6.7 percent rise in sales during the same period in 2007.
Best Buy maintained its fiscal 2009 guidance range of $2.30 to $2.90 earnings per diluted share.
"It was a very weak quarter and downright disturbing on multiple levels," Richard Hastings, a consumer strategist at Global Hunter Securities, told the E-Commerce Times. "I was not surprised, but the extent of the change of the business compared to where it was two years ago was incredible."
Best Buy Will Shrink
Best Buy will become a leaner company for at least the next two years, Hastings expects, as the company attempts to ride out the recession in the U.S., which is already a year old.
"When a company tells their corporate employees that they have a voluntary severance offering on the table for anyone who wants to take it, that tells me they're trying to contract the business back to some kind of equilibrium," he said.
Best Buy will not really stabilize until the second half of 2010, because it takes a while for the cost-saving effects of the reduction in workforce and capital spending to kick in, said Hastings.
There are other chinks in Best Buy's armor.
"[Best Buy was] down 21 percent year-over-year in appliance sales," Hastings noted. "The other problem is you're basically looking at many other divisions with negative comparable sales as well."
Two of Best Buy's weakest businesses — compact disc and DVD sales — are also set to contract.
"The outlook for media … is pretty bleak," said Hastings. "Those industries are headed for a completely downloadable model. I don't know what [Best Buy is] going to do with the square footage dedicated to those businesses two years from now."
Sharing the Pain
Best Buy isn't the only consumer electronics company suffering from the effects of the recession and the decline in consumer spending.
The company's biggest rival, Circuit City, filed for chapter 11 bankruptcy protection in November.
"I'd say 80 percent of the merchandising retail stores out there have no visibility into pricing or consumer demand," Hastings said.