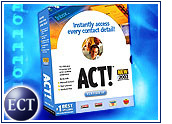 Best Software is jumping on a growing trend in the small business space, online CRM, with the introduction of ACT! for Web, a contact management and sales force automation application that replicates the popular Windows-based program. Geared toward the small business CRM marketplace, its main lure is its very low price point, which undercuts other vendors — such as Salesforce.com and UpShot — that operate in the online CRM space.
ACT! currently is offering its Web-based product for US$249.95 per user.
"Using the ASP (application service provider) model makes sense for ACT!," Louis Columbus, senior research analyst with AMR Research, told CRM Buyer Magazine. "Small and medium-sized businesses want to be able to use their client resources and databases whether any member of the sales force is connected or not."
Same Functionality, Different Delivery
Other than its delivery mode, ACT! for Web is basically the same product that its 4 million individual users already know, Greg Head, general manager of ACT!, told CRM Buyer. "It uses a company's internal Web-server technology to allow external salespeople to browse and edit and use ACT! over the Web in almost the same way they use ACT! for Windows on their network."
Head said one benefit of ACT! for Web is that it does not run in a separate hosted environment that requires staffers to use a thin client. This appeals to the product's target market — firms and sales forces that number 50 or fewer. "People can use the Windows client in the home office and the Web client in the field."
Another benefit Head pointed to is that ACT! for Web allows small businesses to keep their customer information within their own network. The majority of ACT!'s SMB customers are averse to entrusting their customer and sales opportunity data to a third-party hosting facility, he said.
Client-Server on Steroids?
Although this is a new direction for ACT!, Yankee Group analyst Sheryl Kingstone hesitates to call it a major departure from the vendor's current strategy. "It's still a licensed model — the only difference is the deployment method," she told CRM Buyer. "Now it can also be hosted, and a company can use it within a firewall."
However, ACT!'s architecture is completely different from that of its closest competitors — and technology ultimately may be the deciding factor for many companies. "The whole hosted Web-based model for ACT! isn't necessarily a multi-tenant approach," Kingstone said.
Kingstone predicted ACT! for Web will be successful in large part because of its low price point — at least initially. "But if the technology is not fast enough, if the hosted model is truly just a traditional client-server model on steroids, then performance issues might drive down adoption."
Feature Sets
ACT! for Web includes such contact management and SFA features as the ability to track up to 255 fields of customer information; quick look-ups using the hyperlink on each field label; daily, weekly and monthly calendar views for individuals, selected users or the entire workgroup; access to activity and sales reports to get instant summaries of ACT! information; and built-in opportunity tracking and forecasting functionality, according to the company.
Also, users are able to change the look of database screens and add new tabs or change tab labels to track additional information about each contact, the company says. Users can customize letter templates with specific merge fields for easy letter creation, insert new fields into the database, and specify the location of the fields. Screens refresh as edits are made so users can view changes as they are made and undo any unwanted changes.