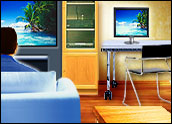 A new report issued at a press conference held by the six major television networks this week said digital video recorders (DVR) increase viewership. But advertising agencies are still holding fast to their displeasure with the technology.
According to the networks, homes with a DVR watched 5.7 hours of TV each daily, compared with 5.1 hours for homes without a DVR. And households with DVRs still watch 90 percent of their television programming when it is originally broadcast.
What's more, 90 percent of viewers surveyed said they skipped all or most of the commercials. But 58 percent said they paid attention to the commercials as they fast-forwarded. And 53 percent said they went back and forth to watch an ad that piqued their interest.
"What we are seeing is that DVRs are going to increase viewership to major network programming and commercial exposure in those programs," said David Poltrack, executive vice president of research and planning for CBS Television and UPN.
Media Posturing
John Consoli, senior editor at Mediaweek, told TechNewsWorld that despite all the tit-for-tat between media buyers and the television networks, both sides realize DVRs are an industry issue they must face together.
"Deep down, both sides know they are going to have to eventually sit down and come up with some sort of agreement to accept some sort of measurement they can both live with," Consoli said. "Right now the jury is still out."
But the jury may not be out for long. Arbitron's test of its Portable People Meter in Houston is already attempting to demonstrate mainstream usage with data that illustrates market penetration is reaching 10 percent. And Nielson Media Research plans to begin tracking DVR ratings in December.
Depending on Broadcaster's Data
For now, the industry is dependent upon the broadcast television network's survey. More data from the poll show that 60 percent of DVR viewing is played back in the same day it is recorded, with prime time broadcasts ranking as the most popular shows recorded.
Network programming gained 4 percent more total audience when the DVR usage was factored in, according to the survey. That makes broadcasters happy, of course, but analysts said the advertising agencies are still waiting for the Nielson data.
"No one has done any conclusive studies on how many people who are watching live television actually walk out of the room during the commercials, even though their set may be on," Consoli said. "If you can't prove that, then how can you prove how much attention people are paying to commercials when they fast forward through them?"
The Fly in the Ointment
As the broadcast networks and the ad agencies continue to make their cases to one another in the media spotlight, there is at least one more factor to consider in the DVR debate: Video on Demand (VOD).
Nielson also plans to begin measuring VOD next year. Analysts are keen to learn how much VOD eats into DVR usage.
"If video on demand actually takes hold, and the networks start putting all of their best shows on VOD through cable networks, then it's going to impact DVR usage," Consoli said. "This DVR debate may just be a temporary argument anyway."