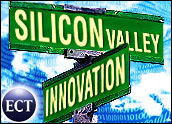 It's time to end the mystery. That blur in the sky over Silicon Valley last week wasn't a bird or a plane. It wasn't a UFO either. It was the president of the United States.
He streaked across the sky, fresh from declaring victory over Iraq on an aircraft carrier out in the Pacific. In essence, he went from one friendly environment — for some strange reason, there were no protestors aboard the USS Lincoln — to another. After all, in the valley, businesses support the Bush tax cut, which is what he was there to hawk.
Okay, he did stop and say a few words. But the real news would be if any of the businesses that have been waiting for someone to take action on the economy actually bought the rhetoric.
Sure, Bush's proposal, with its dividend tax cuts and investment credits, would help businesses. Unfortunately, he came off as just another politician who doesn't get the economy.
Just Passing Through
Take his choice of stopover: a company that makes high-tech military vehicles. This is an extremely subtle step away from war and toward the economy, employment and renewed prosperity. I mean, you don't want to make that leap all at once.
What the rest of the companies in Silicon Valley know — and what Bush fails to grasp, it seems — is that it will take more than just a targeted tax cut to rev up the U.S. economy.
Right now, businesses aren't investing because consumers aren't buying as much as they once did. Consumers aren't buying as much because they're less confident they'll have a job or disposable income. They feel that way because businesses aren't spending. It's a classic standoff, and everyone's blinking first.
Bush came to the valley and played politics. He actually referenced the 6 percent unemployment rate announced just before he got up to speak, the highest in almost nine years, to prod Congress to enact his tax cut. He should have been too embarrassed even to mention it.
Feel Your Pain
And he should have been too self-conscious to say this as well: "I know there's people hurting here in Silicon Valley." Really, Mr. President? How would you know that? Did you get a memo?
The fact is, the president has been too busy to worry about how to jump-start the economy. It's understandable, but it's not acceptable. Tech companies need more than a tax cut to change their fortunes. They need a strong wind at their back. They need upbeat and confident consumers.
If Bush can do that with a single tax cut, he's a genius. Maybe he'll pull it off — who knows? But a complex problem doesn't warrant a simple solution. It warrants just as much energy and planning and attention and time as a winning war strategy.
Stay a While
Bush wants businesses to succeed. Of that I'm sure. He wants tech companies to be the growling tigers they were two years ago. He wants the swagger to return to the valley — and to Silicon Alley and the Research Triangle and everywhere else that tech companies soared toward the sun.
He just doesn't seem willing to do the work to make it happen. Next time, he should venture beyond the war games and take a look around the valley. He should talk to the unemployed software engineers and meet with entrepreneurs whose ideas are stuck in a clogged venture capital or IPO pipeline. Only by doing that will he get the full picture of how difficult a problem he faces right here at home.
The flyover was nice. The brief bit of attention the valley got was welcome. But next time, maybe the president will parachute in and stay a while.
---
Note:
The opinions expressed by our columnists are their own and do not necessarily reflect the views of the E-Commerce Times or its management.
---