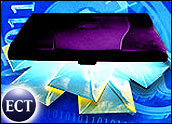 Some 6 percent of unsolicited e-mail dumped on the Internet in Novembercomplied with the CAN-SPAM law passed by the U.S. Congress last year,according to MX Logic, an e-mail security firm located in Denver.
The company has been tracking CAN-SPAM compliance since the law went intoeffect in January and issues monthly reports on the subject based on arandom sample of 10,000 e-mails analyzed on a weekly basis.
Six percent is the highest rate of compliance reported by MX Logic since itbegan conducting its tracking reports.
Spammers Are Crooks
"At this rate, maybe by 2015 we'll have 100 percent compliance," MX LogicChief Technology Officer Scott Chasin told TechNewsWorld.
According to Trevor Hughes, executive director of the Email Service ProviderCoalition, an online advertising industry group based in York, Maine, legitimateadvertisers are complying with the law. "It's fair to say that darn close to100 percent of legitimate businesses are doing their very best to complywith the law," he told TechNewsWorld.
"We know that spammers are crooks," he said. "It would be somewhat ironic,if not perverse, for them to comply with CAN-SPAM yet at the same time sendfraudulent and deceptive e-mail. So I don't think that six percent number isnecessarily instructive or illuminating."
Spam Traffic on Rise
Although CAN-SPAM, when it was passed, was touted as a means to reduce spamtraffic on the Internet, MX Logic reported that about 75 percent of alle-mail on the Net is spam. During this same period last year, that figurewas around 67 percent, Chasin noted.
"You'd have to have an inbox on Mars not to see that spam proliferates on theInternet," he said.
That proliferation will be getting worse in the coming months, according toJohn Reid, a volunteer with the Spamhaus project, a non-profit organizationdedicated to fighting spam worldwide. Based on the current growth of spamcurve, he said, by the first quarter of next year, more than 90 percent ofall e-mail will be spam.
"That means that only one out of 10 e-mails that arrives at an ISP is avalid e-mail," he told TechNewsWorld. "The rest of it is just garbage."
Sent But Not Seen
While spam traffic on the Internet increases, however, spam arrivals in theinboxes of individuals might be decreasing. That's because more and moreorganizations are deploying anti-spam systems, according to Paul Judge,chief technology officer for CipherTrust in Atlanta.
In 2004, he noted,three times more organizations deployed anti-spam solutions than deployedthem in 2003. "That trend is continuing month to month," he toldTechNewsWorld.
The proliferation of anti-spam software coupled with improvements inidentifying junk e-mail has upped the ante for spammers, he asserted.
"Wecan stop 98 percent of spam at the e-mail gateway," he said. "So at the endof the day, there's significantly less spam being received in inboxes.That's certainly why spammers are sending more spam."
Net of the Living Dead
Anti-spam measures are also inciting spammers to increasingly depend onnetworks of compromised computers, or zombie networks, to distribute theirdetritus.
In its report, MX Logic noted that zombie networks account for asmuch as 69 percent of all spam on the Net on a daily basis. "A lot of thatis in response to how service providers are starting to block direct,outbound mail flow from their subscriber nodes," Chasin said.
Next month, the CAN-SPAM law will celebrate its first anniversary, but asidefrom some headline-grabbing lawsuits, it appears to have accomplished verylittle.
"For the bulk of the bad guys, the law has made absolutely nodifference whatsoever," John Thielens, chief technology officer forTumbleweed Communications, an e-mail security firm in Redwood City,California, told TechNewsWorld. "It's downright silly."